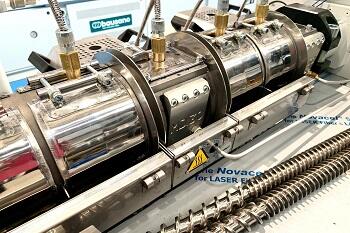 "We are facing a real paradigm shift that is influencing the development of the latest generation of extrusion machines capable of operating with even greener formulations. Our customers are becoming increasingly environmentally aware and are investing in advanced technologies and in a virtuous policy of recovery and recycling. In this scenario, Bausano is at the forefront, alongside the sector's operators, to respond to the market's new requirements, with ad hoc designed technologies that implement innovative transformation methods, which are also energy-saving", Massimiliano Fenili, Bausano Technical Manager, explains.
Today, more than ever, the plastics industry is showing increased sensitivity to environmental issues with a view to fostering a circular economy, in terms of plastic production and consumption. Focus that also translates into concrete actions by the European Union, which has included this material among those with the highest priority for action in the framework of the Action Plan for the Circular Economy. In more detail, the so-called Plastics Strategy and the Single Use Plastics (SUP) Directive were developed to guide the move towards a more sustainable model. In this sense, the need emerges to adopt a unified strategy that tackles the challenge in a synergetic manner, focusing on three pillars: reducing the consumption of virgin polymers, recycling post-industrial and post-consumer waste, and replacing its use with bioplastics made from plant-based raw materials.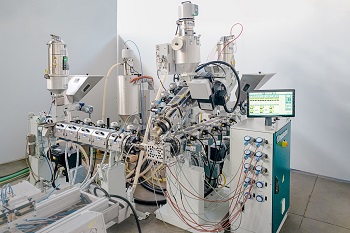 A role that Bausano successfully fulfils by virtue of its in-depth knowledge and expertise of the pros and cons of each material and production process. A platform of solutions that Bausano, starting from the same technological root, constantly enhances to achieve ever higher levels of sophistication that meet every technical challenge related to the different formulations. With this in mind, Bausano, in addition to the already popular plant fibre-plastic composites, designs innovative extrusion lines that can also process blends that integrate environmentally sustainable plastics, such as PLA, with the plant component (rice husks, coffee grounds, banana peels, seaweed, almond shells, avocado kernels, cork and other plant residues). A further case of excellence, in terms of sustainable innovation by Bausano, is the processing of an even more sustainable formulation of Wood Plastic Composite (WPC), no longer only obtained from a combination of PVC and sawdust, rice husks, etc., but also from plastic waste together with the plant component.
In such a scenario, Bausano added value, in addition to the technological core of its extruders, lies in product engineering with tests aimed at creating customised configurations capable of securing a competitive advantage for its customers, such as:
- ABS terpolymer derived from the recovery, post-consumer, of electronic equipment (WEEE) undergoing testing with an unprecedented experimental line under the banner of maximum production performance;
- LDPE thermoplastic polymer from bottle caps with up to 60% post-consumer material, for an output of 750 kg/h by twin-screw extruders of the MD series;
- high-density polyethylene HDPE, derived from bottles, with up to 60 per cent post-consumer component and productivity equivalent to 200 kg/h using E-GO series single-screw extruders;
- PLA-based WPC, with polylactic acid component required by the customer between 60-80% and sawdust component between 20-40%, for an output of 100 kg/h with MD series twin-screw extruders;
- biodegradable PBAT thermoplastic, generates 900 kg/h for the production of flexible packaging.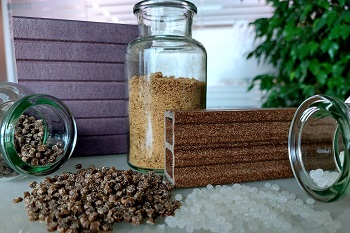 Several critical issues have been resolved by Bausano in the course of these extrusion processes. Firstly, post-consumer waste, besides being characterised by a great variability of characteristics, is often affected by oxidation-degradation processes, which can alter its physical and mechanical properties. Secondly, materials from renewable sources pose just as many challenges, stemming from the complex handling of their rheology and the limited thermal processing range.
"The most recent guidelines issued at European level show that the reduction of virgin plastic consumption is one of the cornerstones of the new directives. Among the sectors in which plastics volumes remain particularly high is packaging. In order to limit the exploitation of natural resources, it is therefore essential to promote the use of viable alternatives, which are both environmentally friendly and high-performance. In this context, corporate strategies must also be renewed to contemplate long-term sustainable development goals, considering these changes as an opportunity to search for novel and pioneering solutions", Fenili concludes.