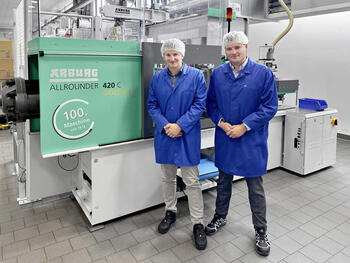 More than 50 years of cooperation between H&K Müller and Arburg were crowned by the delivery of the company's 100th machine. The hydraulic Allrounder 420 C Golden Edition is equipped with a Multilift Select handling device and produces screw-top cans as well as measuring and dosing spoons for the pharmaceutical, cosmetics and food sectors. H&K Müller, based in Engelskirchen, Germany, manufactures plastic cans, reusable cups, measuring cups and measuring spoons, dosing aids, packaging systems as well as sustainable packaging and technical plastic injection moulded parts of various kinds. The company supplies its products mainly to customers in the food, cosmetics, pharmaceutical, dental, veterinary, chemical and technical industries.
For more than 50 years, H&K Müller has relied exclusively on Arburg technology. Including the new hydraulic Allrounder 420 C Golden Edition, the total number of injection moulding machines in the clamping force range from 500 to 2,200 kN that the company now has in operation is 52. Many systems are equipped with Multilift handling devices to enable automated series production. In the past two years, two turnkey systems have been developed and commissioned together with Arburg. Both work successfully in automated series production, where items that previously required a lot of manpower are produced in large output quantities. "Using these systems means that the packaging process can be completely handled by the docked automation. This helps reduce the manpower required in production and allows us to run shorter cycles," said Philipp Müller. "We appreciate the reliable and cooperative relationship with Arburg and look forward to many more years of successful cooperation", his brother Justus Müller added.
Products made from 100% recycled material are also produced on the Allrounders. In addition, the company is continuously working on new recyclates and bio-based and biodegradable materials and additives. A large part of the standard range is already available in recycled, bio-based and biodegradable materials derived from a waste product of the sugar cane industry. The company is working tirelessly to be able to offer these options for all products in the future. H&K Müller is certified four times in accordance with ISCC Plus, DIN EN ISO 9001 Quality Management, 22000 Food Safety and 50001 Energy Management. Resource-saving, environmentally conscious and sustainable action has been a fundamental part of H&K Müller's corporate philosophy for many years. A balance between economic success and social responsibility has been the cornerstone of its business activities for decades. H&K Müller attaches particular importance to energy and raw material efficiency in plastic injection moulding and in the production of sustainable packaging. The new production facility, which was opened in 2009, is heated almost exclusively with waste heat from production, and the increased use of electric drives also saves CO2. In this way, and by using photovoltaics, operations are almost emission-free. On average, 98,000 kilograms of pre-consumer plastic material from prototype production and production waste are recycled directly in-house every year. Material that cannot be used by the company itself is sold to other companies that can use it in their manufacturing processes. This creates a closed-loop system as a sustainable contribution to environmental protection and sustainability.