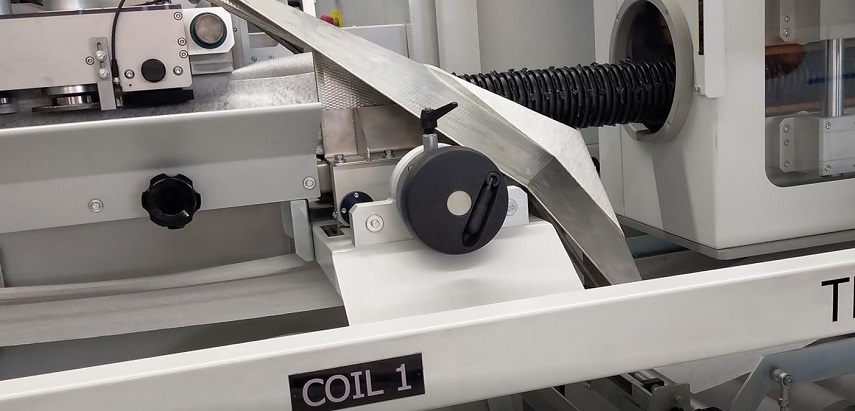 For almost 70 years, Baruffaldi Plastic Technology has been designing and manufacturing customized machines for processing plastic profiles and has always stood out for its dynamism, flexibility and avant-garde nature. Together with the Primac brand, it has been designing downstream equipment for plastic pipes for over 30 years. In particular, one of the market niches in which it has specialized is that of drainage pipes, designing slotting machines, perforators, socket welding machines for corrugated pipes and automatic machines for covering drainage pipes with PP geotextile, named Dreno Covering, launched at the recent K 2022.
Dreno Covering is an automatic machine that can be used in and offline to cover perforated/slotted corrugated pipes with PP geotextile (TNT). The machine can process both single-wall rigid and doublewall flexible pipes with diameter from 50 to 200 mm. The TNT is wrapped around the pipe and welded continuously by means of an ultrasonic welding head, whose power is electronically managed according to the type of fabric and the process speed. On the Dreno Covering it is possible to place two coils of fabric, one for work and one in reserve to avoid machine stops during the automatic coil changeover. The variation in diameter does not require additional equipment, but only the change of the width of the fabric coil.
The main advantage of using the PP geotextile fabric compared to the sock consists in the possibility to cover the pipe automatically, directly in the extrusion line. In addition, the TNT, thanks to its physical characteristics, is better than the sock because it does not deform (its fibres are dimensionally stable), has a higher tear resistance, has a greater resistance to acids and basic pH and consequently a longer life. Dreno Covering system can process any type of geotextile according to the customer requests and specific applications. During the restyling phase of the Dreno Covering, particular attention was paid to the production speed, which now easily reaches 30 m/ min, and the dimensions of the machine. The overall dimensions have been reduced thanks to the moving of the electrical cabinet at the entry point of the pipe and the optimization of the safety guards, improving the operator safety level. The final result is a compact, efficient, versatile machine able of obtaining a high-quality finished product at high speeds.