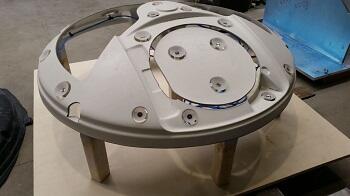 Trimming large work pieces require a series of specific skills, technology, and highly specialized machinery.
Thanks to years of research in fields where large sizes are unavoidable, such as, large-scale thermoformed volumes, nautical, wind turbines, and railway, CMS has developed the necessary skill set.
Top buyer benefits
- Best-in-class ratio between the workable volume, work piece illumination, and HMI
- 21% increase in speed and axes acceleration compared to specialist machinery of a similar volume
- Repeatability values below 0.05 mm (0.0019 inches) even for axes up to 10 m (32 feet) long
- Advanced axis control with modern programming systems aimed at optimising the sequence of cutting paths capable of drastically reducing cycle times
One of the key factors in trimming large volumes is undoubtedly the handling of shavings. Specially designed worktables and automated extraction systems allow for rapid and precise format changes while also effectively managing unwanted debris.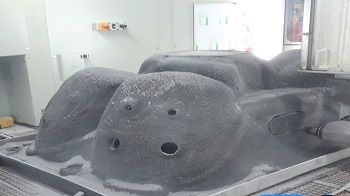 On board hardware and software systems provide for automatic adaptations to large volume work pieces that may have experienced deformation.
Work piece management is central to a successful CNC system. With sophisticated loading and unloading platforms, dedicated IO, and stable fastening systems CMS offers the most robust work piece management systems in the marketplace. Years of experience and collaboration with customers world-wide ensure CMS gear and equipment will support your most challenging Large Volume CNC needs.
For more information click here