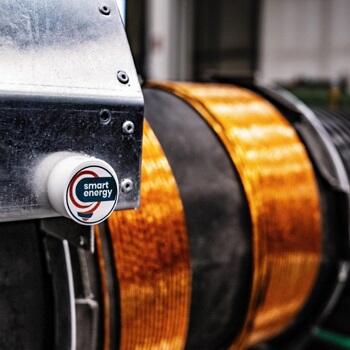 On the occasion of K 2022, Bausano provides the skills of its pool of technicians in the fields of recycling, pipe extrusion, screw design and compounding. Customers will be able to benefit from specific advice at its stand and discover the innovative patent pending Smart Energy System together with the Bausano team. A solution for sustainable development and maximum energy savings.
Specifically, the Smart Energy System, for induction heating of the barrel, fulfils the requirements of optimising production processes in the extrusion of plastic materials. Unlike traditional resistance systems, heating takes place without contact, by an alternating electromagnetic field: a faster and more efficient method, which ensures maximum performance while guaranteeing energy savings of up to 35%. Simple installation and maintenance are additional benefits to the significant reduction in component wear, in favour of a longer machine life cycle. In particular, this is an integrated thermoregulation system, consisting of: an extrusion barrel, forced air-cooling induction coils and temperature sensor. The PLC with specific software completes the solution.
The Smart Energy System will be on display at the fair to discover all of its advantages, both on a twin-screw extruder of the Nextmover range and on the single screw E-GO R - the new technology dedicated to the re-granulation of plastic waste. Visitors will be able to go into the merits of this technology and discover all of the technical aspects in the field of extrusion, thanks also to the transversal knowledge of Bausano experts. Among these Marco Masiero, Recycling and Post Industrial Reprocess Specialist; Massimiliano Fenili, Pipe Extrusion Design and Process Expert; Alessandro Ruotolo, Screw Designer and Process Engineer and Fabrizio Rampone, Compounding Specialist & Extrusion Technician.
"The possibility of being able to rely on a team of highly qualified experts is an essential prerequisite to be able to continuously increase our technical know-how over time and offer increasingly innovative solutions", declared Clemente Bausano, Vice President of Bausano. "In this sense, the K fair offers Customers a unique opportunity to personally share every request relating to individual projects in the field of extrusion of plastic materials with the specialists of the new Technical Department, in pursuit of sustainability and energy saving".