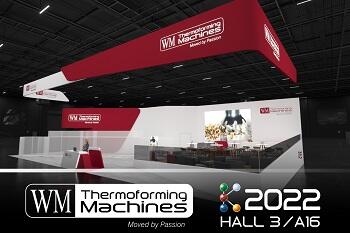 The Swiss manufacturer of thermoforming machines WM Thermoforming Machines will attend K 2022 with its largest machine, and a calendar full of events and activities. And there are at last five reasons to visit its booth at the trade fair.
First, the FC 1000 IM2, the largest machine in the company range, also known as "the Queen", which can be seen in action during several daily live demonstrations. The FC 1000 IM2 is a unique machine in WM range, featuring: high throughput/sqm (one of the largest in the market); high clamping force/sqm (1,300 kN make it the strongest in the range); in-mould or separate cutting; high flexibility with 3-axis robot (and 10 setting modes); new colour, deep red, for the K show.
While several thermoforming machine manufacturers are opting to integrate automation and tooling vertically or horizontally within their organization, WM Thermoforming Machines decided to build strong partnerships with different global key suppliers who share the same vision, allowing it to respond to the different market requirements. K 2022 will be the stage for a new appointment of the "Synergizing Technologies" series, WM format of technology talks featuring many of its friends and partners. From October 20 to 25, experts from different areas of thermoforming will share precious industry insights. At the end of each session, there will be a Q&A time and the speakers will answer questions and curiosities from the audience. This will be a valuable opportunity to collect viewpoints from industry experts specializing in different areas.
WM Thermoforming Machines also wants to guarantee maximum flexibility to its customer.
At its booth, these latter will be able to see a number of end-of-line automation solutions from several WM partners, such as packaging machines, boxing units, insert bag machines etc. Customers will have access to real case studies, videos, renderings etc., and will be able to view and discuss the most suitable solutions for their needs.
Moreover, WM booth will be connected live to the headquarter in Stabio (Switzerland), where the Twist 700 will be stacking super-fast with WM newest stacker MSvS. The Twist700, premiered during K 2016, is WM in-mould trimming thermoforming machine with lower tilting platen, fully electrical without mechanical cams. Ideal for medium-high productions of cups, tubs, flat lids dairy containers and pots that require close cutting tolerances as well as perfect wall thickness distribution. Twist 700 guarantees high product quality within a high-speed, fully automated process and minimal energy consumption thanks to black heaters and cycle time optimization. The forming station has been designed to run RDM 70 K tools guaranteeing full tool interchangeability. The MSvS stacker is the updated and patented version of WM most flexible and complete automatic stacker. It is designed to improve the stacking performance especially for deep draw and/or high stacking pitch products. MSvS guarantees highest machine cycle time, faster tool exchange, and lower investment on tool accessories. The new stacker provides optimal products handling and downstream automation processes.
In summary, the K show will be an opportunity to present all the technological developments made by the Swiss company in the recent period, and at the same time to gather feedback and impressions from customers. It will be an opportunity for WM, partners and customers to meet.