Plastic moulders and extruders can have specific processing needs, requiring equipment and systems designed to ensure consistency, repetition, traceability and cleanliness.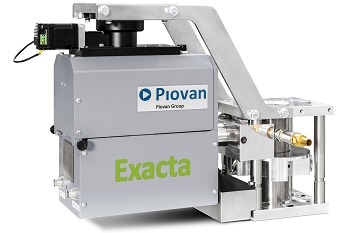 Exacta, the gravimetric micro-dosing unit by Piovan perfectly matches these requirements and ensures maximum repetition. At the same time, thanks to its distinctive features guarantees consistency during colouring process fundamental for caps or preforms. Exacta allows to reduce costs related to raw materials consumption, thanks to its absolute precision in dosing.
Exacta, the gravimetric micro-dosing unit for the smallest products
Exacta is the gravimetric micro-dosing unit for low production throughput. Customers from almost industry sectors can have the need to micro dose granule and get best in class performance during the production process. Exacta guarantees very high precision, easy accessibility for cleaning and performances consistent in time, dosing even one single granule.
Exacta new gravimetric feeder for micro-dosing, is equipped with an advanced control that allows a complete control of frequency vibrations in order to obtain the exact throughput and an optimised filtering system to identify and neutralise all vibrations coming from an external source.
It has a modular construction and each station has an individual control realised with a PLC B&R. The operator interface is a 7" colour touch panel and an Ethernet port is available for the connection with Winfactory 4.0. The number of parameters that the operator is requested to insert have been minimized in order to make the control as intuitive and user-friendly as possible.
Five benefits to ensure best-in-class performance in dosing
Which are the most important features that a dosing unit shall have?
Process consistency and reproducibility, full traceability of raw materials and process parameters, extreme cleanliness: these are only some advantages that the new range of Exacta dosing unit provides.
1. Process consistency and reproducibility
Process consistency and reproducibility are key factors for plastic manufactures. High accuracy and consistency, even in case of micro-dosing, can be achieved only using a complete automatic feeding system equipped with tagging and safety devices that can avoid human error, real-time systems for production control and auto adaptive technology that keep main running parameters constant.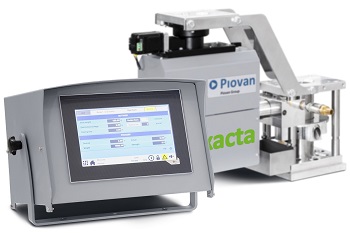 2. Full traceability
Exacta has a touch screen control panel for the connection with Winfactory 4.0. Thanks to Winfactory 4.0 Material Tracking System tools, it is possible to follow each material batch from storage to the final product. All raw material can be logged in manually or with automatic devices, such as a bar code scanning system. The barcode system can be integrated in an automatic material distribution network creating an error-proof system that also includes special storage devices with automatic locking and recording of each operation. The user's login in Winfactory 4.0 can also be done with an automatic badge recognition procedure. Winfactory 4.0 opens up the possibility of communication with customer MES or ERP systems.
3. Extreme ease of use and cleanliness
Some systems require to have reduced size machines due to their position, in order to allow also easy maintenance operations. Exacta guarantees easy and fast cleaning operations thanks to the full accessibility to the internal elements.
Cleanliness is intended as a wider vision: one target is to preserve the plastic granules from any contamination, with all the air intakes protected by filters, closed loop feeding systems or automatic system of filter clogging detection. On the other hand, it is also necessary to preserve the environment from contamination that can be generated during polymers handling. Dust generation, for example, is minimised thanks to perfectly smooth surfaces made of stainless steel and the use of the highest standard of quality in pipeline installation.
4. Material compatibility
All materials that can be in contact with plastic granules are clearly defined according to customer specifications. For example, for Medical applications, Piovan has defined internal standard that includes the use of stainless steel for all the surfaces in contact with granules, absence of rubber sealing and of oils or lubricants and silicon-free installations. In this case, Piovan proposes solutions with glass bends, stainless steel polished piping and joints.
5. Qualification and validation
Piovan can support customers in the process of qualification and validation of the systems, helping them to ensure that all equipment works properly and as intended to, according to the standard defined by the customer and guidelines given by "GMP" (Good manufacturing practices). The process starts during the design phase, with the analysis of user required specification and continues during installation, test and operation of the system.
Last but not least, the global footprint of Piovan Group assures worldwide coverage for solution engineering, installation, commissioning and service.
Discover more on Piovan website
See the video