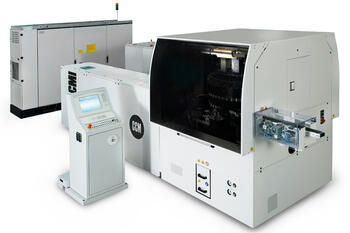 At ProPak Asia 2023, the beverage and food packaging fair to be held in Bangkok from 14 to 17 June, Sacmi will be exhibiting its solutions that reduce the weight of the neck-cap system without affecting the consumer's experience. The development of lightened necks and caps, together with research into new, more sustainable standards both economically and environmentally, is one of the areas in which Sacmi is focusing most, with unique capabilities in the sector, starting with the complete control of all technologies to make caps and preforms
The work begins in the company laboratory, spanning from complete characterization of the materials and extending all the way to product development, in close collaboration with the major international brand owners. An example: the GME 30.40 neck standard for CSD caps allows manufacturers to reduce plastic consumption (PET and HDPE) by at least a third compared to today's commonplace PCO 1881. For the customer, that means an immediate, tangible advantage 
The same solution can also be applied to water bottle caps, yielding logistical savings. Alternatively, by staying with the traditional 29/25 mm and taking advantage of lightened necks developed by Sacmi, material consumption can be cut by about 20% (from 2.4 to 2 grams). Sacmi also has tools that allow manufacturers to complete the transition to the 26/22 mm standard, a global trend that is, once again, driven by the need to minimize environmental impact by saving raw materials.
With regard to bottled water - fundamental in Thailand and neighbouring countries where many people have no access to drinking water - and CSDs, the transition announced by Sacmi rests on the company's rock-solid market positioning, with over 70% of the installed one-piece cap production lines. Sacmi provides the complete CCM package along with the IPS preform machine range to accompany manufacturers through this transition which aims to make production more competitive while protecting the environment. The possibility of relying on a single-stop partner is a clear advantage for processors as it allows them to provide the market with products that comply with the highest standards proposed by international brand owners.
With the aim of producing more and producing better, Sacmi has also developed a number of new technologies such as the Smart Pack, recently incorporated into the CCM compression machines of the new generation. By using sophisticated in-machine sensors that automatically control the process without any need for worker intervention, Smart Pack warns the operator when something is wrong, thus preventing waste and errors. That same reactive control logic also sees vision systems - proprietary Sacmi solutions for every stage of the process - taking on an increasingly central role. At the fair Sacmi will be also exhibiting PVS156, the first vision system integrated on the press (IPS 300) to perform intensive inspection of preforms.