Hot runner technology enables injection moulded parts with the highest surface quality, as required in particular by the automotive industry. In many applications, systems from Oerlikon HRSflow support cost-efficient, material-saving production with highly precise process control. Examples include a "smart" car rear panel in 2K technology as well as injection-moulded light guide elements for which the new, patent-pending CTC gate insert is used. Beyond, the advantages of the company's Flexflow technology with servo-controlled needle positioning are demonstrated by the cascade injection moulding of headlight covers and the back moulding of films in a lightweight construction application.
The supporting element of a "smart" car rear panel using 2K technology is a frame made of PC/ABS. In the first step, this is injection moulded using a hydraulic 2-drop hot runner system from Oerlikon HRSflow. In the second step, the part is overmoulded with PMMA or alternatively PC using a single nozzle from the Ga series. Finally, the part is decorated directly in the mould with a capacitive yet aesthetically pleasing film. In addition to Oerlikon HRSflow, Kurz, Engel and Schöfer also contributed to the success of this innovative project, which required, among other things, extensive rheological calculations due to the complex requirements.
For the injection moulding of an automotive light guide element, Oerlikon HRSflow new patent-pending CTC gate insert provides optimum properties. It is made of steel with superior mechanical properties and wear resistance. In addition, flash formation is completely avoided thanks to optimum thermal control in the gate area in conjunction with a cylindrical shut-off. Both factors help optimize productivity in the manufacture of the light guide element. Forgiving dimensional requirements simplify machining of the nozzle seat, and a smart solution that allows the gate opening to be renewed with minimal effort facilitates maintenance work. In general, injection moulded parts that require a wide process window due to difficult conditions such as low shot volumes, long packing times and high holding pressure values are among the typical applications for the new CTC.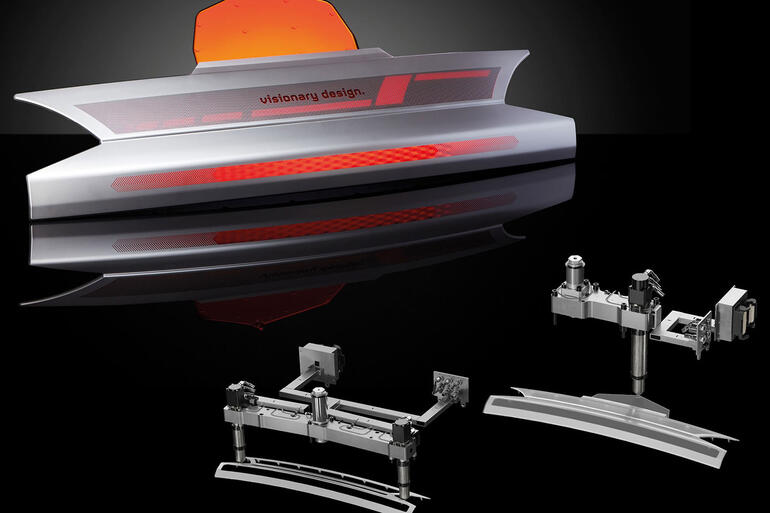 LED headlight bars made of crystal-clear polycarbonate are a proven application of Oerlikon HRSflow's Flexflow technology. The systems' servo motors enable synchronized needle movements for precisely controlled flow front progression during sequential injection moulding. Sudden pressure drops that occur when additional gates are opened are perfectly damped, so that the cavities are filled evenly and residual stresses in the moulded part are minimized. There is also a high degree of flexibility during the holding pressure phase because the needle closing profile (speed and stroke) can be adapted to meet product dimensional requirements.
The possibilities of hot runner technology in the design of future cockpits are illustrated by a joint project between the Koller Group, Dietfurt, and Oerlikon HRSflow using the example of a laptop housing demonstrator part. A prefabricated and preformed film is back-injection moulded with PC using the FIM (Film Insert Moulding) process. Mould development was carried out jointly with Koller Formenbau, while the back moulding process was developed with the automotive lightweight specialist Koller Kunststofftechnik. While the film was initially displaced below the injection point, this washout effect could be reliably avoided by using and optimizing Oerlikon HRSflow electrically controllable Flexflow hot runner system.