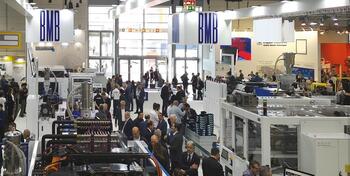 BMB recent investments in research and development have focused on supporting its customers in order to ensure greater energy savings, with technical solutions aimed primarily at meeting the high productivity needs of the packaging sector.
With four production cells running during the K 2022 exhibition, BMB will convey a message of great reliability even for the most demanding applications, an example of which will be a cycle time of 2.3 sec but with a particular focus on energy saving. Containing consumption in challenging applications also means enjoying benefits in less demanding ones. The machines on display will also be equipped with a new CNC control where the operator interface is improved thanks to a larger screen and the integration of some new digital functions.
IML moulding
An eKW70HP/3450 WP Hybrid machine will mould thin-walled round containers with wrap-around and bottom IML. A cycle time of about 5 sec will ensure the production of 8 containers with 2 labels each, monitored by cameras and then packaged. This system is a customized production cell which will be shipped to the end user after the fair. Thanks to HolyGrail 2.0 technology, the label is able to show the content details through a smartphone. This important feature allows the transfer of multiple information that may relate to production, expiry date or recycling instructions. The cameras used in the recycling plants can in fact collect information on the material and therefore direct and separate the different types of plastic for an accurate recycling process.

Two-colour moulding
The application concerns the production of two-colour flip-tops for cosmetics, from a 16- cavity mould. The 280-tonne eKW28Pi/1300+330 full electric machine exhibited will showcase a high precision moulding, with weights of only 2.3 gr for the base and 1 gr for the top in a 11 seconds cycle time. The two-colour or two-component injection moulding machines are increasingly requested for various sectors and needs, in case of an item made combining different weights and/or materials.

Thin-wall moulding
An 850-tonne high performance eKW85HP/12500 Hybrid press is the ideal machine for thin-walled applications with products that of a 'deep draw' design such as  buckets, home containers, hospital and other waste material containers. This machine is characterized by a very high injection speed, necessary for the correct production of thin-walled parts. Thanks to the direct electric drives and roller recirculation screws on opening and closing, extraction and plasticization, it is possible to obtain energy consumption that is really similar to that of a fully electric press, with the advantage of an injection speed of about 2 m/sec.

Energy-saving moulding
At Enelkon's stand, an eKW20Pi/700 full electric machine will demonstrate an application combining high productivity with very low energy consumption. All this is possible thanks to a perfect balance between machine, mould, automation and ancillary accessories. This moulding cell will include an IML automation system, equipped with 10 cameras and a stacking system to place the products in cardboard boxes.