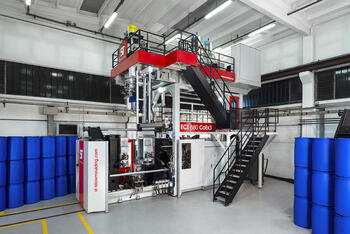 Ready to return to Plast, ST BlowMoulding will be presenting its latest innovations and technologies at the important international trade fair to be held at Fiera Milano from 5 to 8 September.
For over forty years, the company has been operating as a reliable supplier of large blow moulding machinery. From cutting-edge suction blow moulding technology to the production of large packaging containers of up to 6,000 litres, it provides solutions tailored to the needs of processors that are the result of a combination of Italian engineering and Swiss precision and attention to detail and supported by offices in Italy and Switzerland as well as the new subsidiary in North America.
Today, the company's core technology consists of machines for the production of large blow-moulded articles from 30 litres upwards. Over the years it has developed a portfolio with expertise in markets such as: industrial packaging, with L-ring and open top drums, IBCs, large jerrycans; automotive components, with fuel and water tanks, HVCAs, under-hood components, cooling system piping, hydrogen pressure vessels; special products, such as floating solar docks, CPV and LPG tanks, gardening items, pots, toys etc.
ST BlowMoulding's machines are designed to offer high levels of efficiency and performance: the lowest energy consumption category, based on the Euromap 46.1 method, guarantees cost-effective production even in times of high energy prices; the variety of options allows solutions capable of processing the new "green" materials (PCR/PIR resins) and producing 100% regrind layers or extremely thin outer layers with special properties.
Products supplied by the company also include accumulator heads or for continuous, single-layer or multi-layer extrusion, fully electric or advanced hydraulic machines, and special systems for automatic die change.