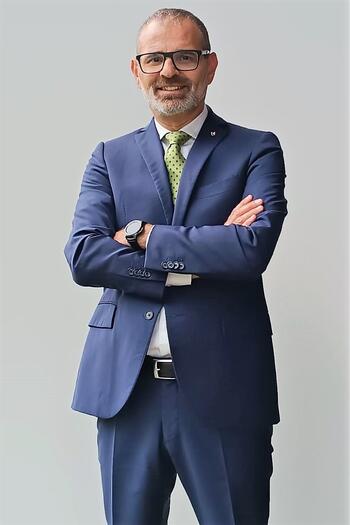 The annual meeting of Amaplast was held at the Ca' del Bosco winery in Erbusco (Brescia) on 28 June. During the meeting, Massimo Margaglione (Gefit) was elected new president of the Italian plastics and rubber processing machinery and moulds manufacturers association for the 2023-2025 two-year term. Margaglione, who in the last four years was vice president of Amaplast, takes over from Dario Previero, whose mandate expired after leading the association from 2019 to 2021 and again from 2021 to 2023. The new president will be joined by vice-presidents Barbara Ulcelli (IMG), newly elected, and Gabriele Caccia (Syncro), re-elected to this position.
The new president began his term by indicating his guidelines: "As the new president of Amaplast, I believe I have to first of all provide continuity to the important initiatives launched by my predecessor and for that I will be committed to promoting, sustaining and implementing that collaborative spirit that has developed between our association, Acimac and Ucima, in order to create a federation that will without question strengthen our position within Confindustria. Safeguarding the interests of the plastics industry, and the capital goods sector that it serves, is today an undeniable priority and need. We need to work with governments, institutions and national organisations in order to drive favourable policies for our sector and to counter the negative perception of our industry, often and improperly seen as the cause of the environmental scars that surround us."
"Apart from this, Amaplast will continue to provide support and assistance in order to inform and often also to train member companies on the delicate and now vital topics such as sustainability and social responsibility of enterprises, ecological transition, circular economy, SUP rules, and modifications to European directives on packaging, and it will continue to be an attentive player and an active support for members in the maze of regulatory changes and help them, to the extent an association can, to face the market challenges and develop opportunities deriving from the same. I would like to express my sincere gratitude to Dario Previero for his extraordinary work. I inherit a stronger association that is more dynamic, more present in the supply of qualified services to its members and undoubtedly more accredited with national institutions", added Margaglione.
Graduated in political science at the Alessandria branch of the University of Turin, Margaglione began his professional career as quality assistant at Guala, a manufacturer of caps and closures for the beverage industry, later becoming product manager. In this role, in 1997, he joined Gefit, a company of the Guala group that became an independent company in the production of moulds for thermoplastic materials destined for the food market. In 2000 he took on the role of international marketing manager at the Automation division of Gefit (assembly machines for the automotive industry), also taking care of the food packaging market. In 2005 he became sales manager, and in 2012 CEO, of Gefit mould & assembly division, which manufactures moulds and assembly systems for the food packaging sector.