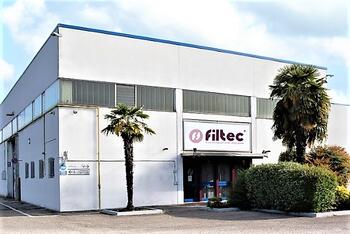 A manufacturer of treatment plants for plastic materials, specializing in particular in filtration and granulation systems with innovative and customized solutions, Filtec celebrates its first thirty years in 2023. The company was founded in 1993 in Badia Polesine (near Rovigo) by Gianfranco Baracco, who already boasted wide experience and expertise in the field of special automation systems for thermoplastic resins. At that time, the company offered assistance and spare parts services for AST products, and also designed and manufactured its own mechanical solutions. The real breakthrough came in 1995, when Filtec brought to the market the Water Ring GRO500 horizontal axis granulator, created to meet a specific request: the production of homogeneous and quality pellets while guaranteeing a capacity of 500 kg per hour, according to what has established itself as the corporate philosophy of Filtec: acquiring technologies that ensure excellent and consistent performance over time along with the highest level of reliability.
Everything, from the design to the construction of each machine, is made entirely in-house in the name of craftsmanship, the real trademark of Filtec. This has also allowed the company to maintain full control over every stage of the production process, so as not only to offer excellent final products, but also to ensure total support to customers even after the installation and start-up of the machines. Today the company, led by the founder's son, Giovanni Baracco, occupies 5,000 square meters with its premises and boasts 700 customers all over the world, 400 suppliers, more than 1,600 installations world-wide and the development of over 700 customized granulators; in addition to all this the company can rely on a stock of more than 14,000 items in its warehouse.
Over the years, Filtec's mission has grown in step with the times not only from a technological point of view but also in terms of the initiatives aimed at protecting the environment and promoting a circular economy by supporting specific projects, such as Are You R and EcoDPI. The former is a European initiative promoting the importance of plastic recycling, with the aim of increasing everyone's awareness of the environment and knowledge of the benefits related to the recycling of plastic materials. EcoDPI is supported by the Veneto Region and aims to recycle waste originating from personal protective equipment (PPE), including sanitary equipment, studying the key phases of a potential circular chain for the production of such equipment, with Filtec at the forefront in the development of technologies for the granulation of polymers and biopolymers that contribute to the creation of 100% recyclable PPE.