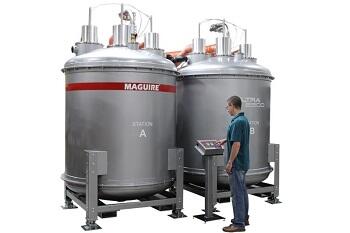 Designed to meet high throughput requirements with a max capacity of 1000 kg/h with all the benefits of the patented Ultra dryer design, the new Ultra 2200 series dryer from Maguire allows much faster drying than conventional methods while using significantly less energy. 
While the principal phases of the vacuum drying process remain the same as those of the existing Ultra 150, 300, 600, and 1000 models, the Ultra 2200 utilizes a pair of identical multi-function chambers that alternate in sequence to provide an uninterrupted flow of dry material. Each chamber can self-load, heat, vacuum, and dispense. This design allows for a compact arrangement with a relatively low ceiling height requirement.
Ultra 2200 incorporates load cell technology which provides the operator the ability to monitor and control each step of the drying process allowing for process optimization throughout the entire drying cycle. By digitalizing the process, every granule within the drying system is actively monitored and controlled. The data can easily be viewed on the touchscreen and details of the exact operating process as it happens are logged, giving the user a clear understanding of how the material has been dried. In addition, all of this data is available for export for integration with any ERP or other process control systems.
"Energy savings, faster drying times, less waste and quick material changes all contribute to the unrivaled value Ultra dryers bring to the plastics processor," said Frank Kavanagh, Vice President of Sales and Marketing. "Now we can offer all these benefits in a powerhouse of a dryer that accommodates the demands of high throughput applications."