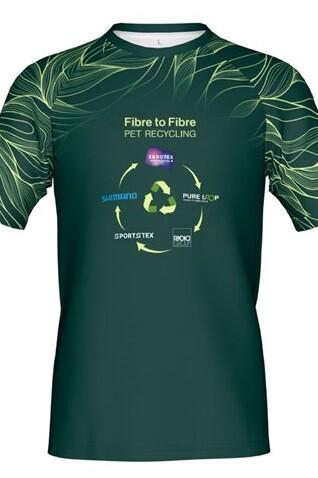 An important research and development project which demonstrates the feasibility of polyester "fibre-to-fibre" recycling started with Sportstex, a company specialized in the production of sportswear, and RadiciGroup, wishing to collaborate for the recovery of polyester textile waste such as uniforms for football, volleyball and other sports. The involvement of Pure Loop, a company specialized in recovery machinery, was immediate, with the aim of identifying the best available technology to obtain a new textile fibre.
To reach this goal, the R&D teams of the three companies carried out various tests to achieve a recycled textile product with high technical features. An initial result was obtained using a mixed recovery technique, "dosing" variable percentages of granules from recycled bottles (a more than consolidated practice at RadiciGroup) together with polyester granules from recycled fabrics. This experience allowed to gradually fine-tune the processes and to achieve, at the end, a yarn 100% derived from the recovery of textile waste.
Once scaled-up, this virtuous circularity system will make it possible to easily produce recycled polyester garments that, at the end of their life, can be recovered again. Shimano was the first company to embrace this sustainability project branding the first jersey coming from this supply chain collaboration. A cycling jersey made with this process will be on display for the first time at Itma, the international trade fair for textile and clothing technology, which took place in Milan from 8 to 14 June 2023.
The research project has highlighted a new recycling way, which allows to obtain quality polyester fibres starting, for example, from pre-owned clothes, for a textile "closed loop". Moreover, Erdotex, a company specialized in the sorting of used garments, will support the project. Thanks to specific "sorting" procedures, Erdotex will make it possible to feed this innovative recycling process, with the ambition of developing a real industrial process. 
"Achieving increasingly sustainable textiles is at the heart of the strategy of Radici InNova, the RadiciGroup company focused on innovation for circularity", underlined Gianni Todaro, R&D Specialist Apparel and Technical, RadiciGroup Advanced Textile Solutions. "For some time now, we have been designing innovative solutions with high technical performance that respect the environment, working in synergy with our customers and suppliers and sharing our knowledge in the recovery of textile waste".
"In recent years we have prioritized environmental stewardship, taking significant action to reduce our footprint. However, the "fibre-to-fibre" recycling brings our efforts to the next level. This approach enables us to create a fully closed loop system from products to consumers right here in Europe. Both our customers and European manufacturers will benefit from this innovation", said Andreas Widmann, administrator of Sportstex and Cottontex.
"Recycling has an enormous potential in the fibre and textile sectors. One thing I am sure about is that recycling will become a standard feature within the industry in the future. That is why I am very pleased that this pilot project, initiated by RadiciGroup, sees us taking an important step towards more sustainable production of fibres and textiles. We are proud of our contribution to the recycling technology part of this project with our ISEC evo FibrePro:IV", explained Merlijn van Essen, Sales Manager at Pure Loop.
Thanks to this project, the partner companies proved the feasibility of circular economy and recycling projects to valorise materials otherwise considered as waste, reducing the environmental impact of the textile sector. A good achievement that demonstrates how combining different skills can contribute to a greater respect of the environment and to the creation of a future based on circular economy.