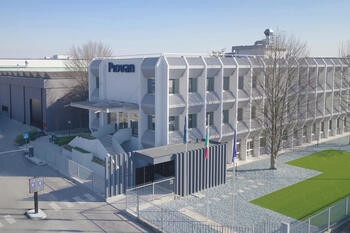 The Board of Directors of Piovan met today and approved the financial information as of March 31, 2023. In the first three months of this year, the Piovan Group's revenues amounted to 138.9 million euros, up 31.9 % from 105.3 million euros in the same period last year. Operating income amounted to 9.5 million euros, up from 7.0 million euros in 2022. As a percentage of total value, revenues and other income were 6.8 % (6.5 % in the first quarter of 2022). 
Revenues by market and geographical area
As for revenues by market area, Plastics record +39.7%. Growth mainly concerns the automotive sector, thanks to investments in new electric models, and the circular economy sector, which is closely related to recycling and packaging with recycled material, areas in which the Piovan Group is a world leader. The Food & non-Plastic was slightly down compared to the first quarter of 2022 due to the timing of the development of some projects that will materialize in the coming months of 2023, especially in the North American market. Services are characterized by strong growth (+36.6%) in line with the Group's strategic plan for this market, which is considered key.
In terms of greographical areas, revenues in North America are up with good performance of the subsidiary Pelletron US and in the food area, thanks also to the positive effect of the euro/dollar exchange rate. Asia is up 76.4% with important orders at the end of 2022 and beginning of 2023 while the European market is affected by the fact that the largest projects in the Food area being executed, although developed in Europe, have North America as their destination. Finally, South America records a 34.8% increase.
Strengthening the support to the green economy
European legislation will also push for the use of recycled plastics and compostable polymers in the future. For the Piovan Group, it is an opportunity to sell the unique technologies developed in recent years aimed at the automation, processing and screening of recycled and compostable plastics. The Group's leadership is also supported by recycling-related patents that place it in a position of competitive advantage at the technological level. Since 2006, the Group has built more than 350 plastics recycling plants and thousands of plants that enable new products to be made from recycled plastics. At present, the company estimates that about 28.7 % of the automations sold in the packaging, fiber and recycling sector are used for the use of recycled material.
Piovan Group is active in the ecological transition process by operating on different levels and engaging in proposing solutions to the market for a circular economy, especially in the research and development of advanced technological innovations to enable customers to use recycled polymers and obtain a high quality, low environmental impact product to reduce CO2 emissions and consumption of the planet's scarce resources.