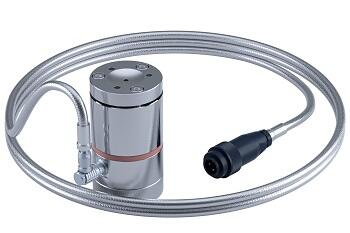 The innovative integrated solution IN-4000 SET has been developed by Gefran and Sensormate (a Gefran Group company specialised in force measurement on injection and die-casting machines and industrial presses) for measuring injection pressure and nozzle contact force, simplifying the maintenance and adjustment of plastic injection moulding machines.
"In injection moulding, the use of electric and hybrid machines is growing rapidly since, compared to hydraulic types, they operate with greater speed, precision and repeatability, while ensuring energy savings of up to 70%. Checking both the injection pressure and the contact force of the nozzle on the mould, which are the main variables involved in the process, as well as adjusting with absolute precision and punctually, is really important to fully reap the benefits and ensure constant quality and reliability of production. With current methods, injection pressure is measured indirectly during operation and is determined through a corresponding conversion in the control system. Force sensors used for this purpose, such as membrane load cells for electric drives or pressure sensors for hydraulic ones must therefore be regularly compared with the actual injection pressure. In addition, if necessary, they must be corrected with appropriate parameters, which is a huge waste of time and resources", Piero Tempini, General Manager of Sensormate comments.
For this reason the Gefran R&D team, working closely with the main manufacturers of injection moulding machines for plastic, has enhanced the IN-4000 SET plug-and-play system consisting of compact sensors, magnetic adapters and a display unit for direct measurement of pressure (IN Sensor) and nozzle contact force (DAK Sensor). The probes can be easily mounted individually or together using magnetic fixing between the mould and the injection nozzle. The main advantage lies in the time required for installation, measurement and removal: being easily performed by a single operator, this is significantly reduced to between 30 and 60 minutes as opposed to several hours.
IN Sensor, made of high-quality steel, measures the injection pressure near the nozzle up to 4,000 bar, with a melt temperature of up to 400°C. Thanks to the heating tape, the IN Sensor can reach 230°C to ensure that the melt in the conical chamber remains liquid. An insulating disc between the sensor and the magnetic adapter allows thermal decoupling of the machine parts, which results in an even temperature distribution favouring high measurement accuracy. The optional sensor heater is particularly interesting for multi-shot measurements with different injection pressure levels, for example, 500, 1,000, 1,500 and 2,000 bar.
For a normal, precise and repeatable measurement of the nozzle's contact force in modern full electric injection moulding machines, Gefran offers the robust and easy to use DAK sensor. The Gefran display unit, with pre-set temperature regulator and pressure display, is connected both to the IN and DAK sensors and to the heating tape. The user can change between the two models by means of a simple switch.
"With the new IN-4000 SET, Gefran is offering an updated solution to a recurring problem in the regulation of plastic injection moulding machines. This is a technology designed to facilitate installation, measurement and removal of sensors, in favour of a shorter payback period", Piero Tempini concludes.