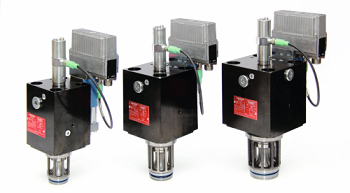 Moog's new X700 series servo cartridge valves serve as robust throttle valves in electrohydraulic flow control systems, especially those requiring quick dynamic responses and high flows. Typical applications include, among the others, injection moulding presses.
The X700 series servo cartridge valves provide users with numerous advantages over other throttle valves. These include a flow-optimized design with a huge leap in flow performance compared to alternative products, and a robust design enabling a maximum main stage operating pressure of 420 bar. For maximum flexibility, customers can choose between three interface options an analog or fieldbus interface - or both, combined in the same valve - to be prepared for Internet of Things (IoT) requirements.
Three versions according to ISO 7368 are available: size 32 (X702), size 40 (X703) and size 50 (X704). All valves are equipped with integrated electronics and closed-loop position control for the main stage cartridge poppet.
A Moog D636 Direct Drive valve is used for the pilot stage, offering superior dynamics and high energy efficiency, thanks to its minimal internal leakage. Due to the innovative main stage design, a sleeve alignment in the manifold is not required, providing flexibility in manifold design. For applications with particular safety requirements, fail-safe options are available that ensure a defined, safe main stage position to avoid uncontrolled machine movements.
"The significantly increased flow performance of our new product family enables customers to reduce valve sizes and save costs and space, which results in a more economical machine design," says development team leader Joerg Wagner. "Combined with the higher dynamics of a smaller sized valve, these products also allow a higher machine performance."