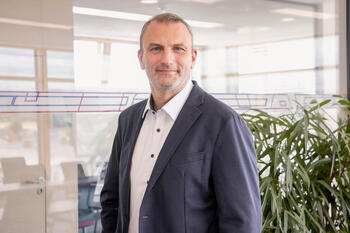 Effective July 1, 2023, Jochen Pernsteiner has become the new Sales Director at Wittmann Battenfeld. In his capacity as Head of Sales, he succeeds Valentina Faloci, who held this position during the last four years.
Following his technical training and subsequent study of sales engineering at the Mittweida University of Applied Sciences, Jochen Pernsteiner worked in sales management positions for various well-known Austrian industrial companies. In October 2018, he started his career at Wittmann Battenfeld, where he was entrusted with the management of a large European sales region. His specialized education and training plus extensive professional experience in sales, in particular in his previous function at Wittmann Battenfeld, are optimal prerequisites for his new function as the company's Head of Sales.
"In his previous positions, Pernsteiner clearly demonstrated his professional expertise as well as his leadership qualities. I am glad that Pernsteiner has decided to accept the challenging task of managing our company's sales, and I wish him the very best of luck and success", Rainer Weingraber, Managing Director and CEO of Wittmann Battenfeld, said. Rainer Weingraber also takes this opportunity to thank Valentina Faloci for managing the company's sales activities very successfully as Head of Sales over the last four years.