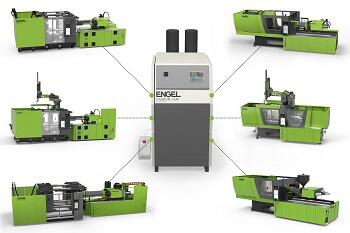 At the K show 2002, Engel is improving the cost-effectiveness of structural foam moulding with new e-foam XL multi central gas supply units. Sophisticated sample parts produced during the show do not require any additional overhead, but leave the injection moulding machine ready to fit with a structured class A surface.
At K 2022, Engel is presenting a new type of system technology for plastics processors who produce parts in parallel on several production cells using the structural foam moulding process. Where each injection moulding machine previously required its own gas supply, Engel now offers the e-foam XL multi, a central unit for supplying several injection moulding machines with highly compressed nitrogen for structural foam moulding. Only the plasticising and control technology is still decentralised on the individual machines. This new solution sees Engel significantly reduce the capital outlay for structural foam moulding and makes a major contribution to reducing unit costs. The new modular e-foam XL multi systems are based on Trexel MuCell technology.
The company is demonstrating the huge potential of structural foam moulding technology at its trade fair stand. Sample parts with a sophisticated surface structure are being produced on an Engel duo 1000 injection moulding machine. The new MicroJect Advanced process developed by Faurecia interior systems business unit, Faurecia Interiors, and Eschmann Textures International is being used here. This makes it possible to produce lightweight visible components with a very high-quality class A surface using only structural foam moulding. Among other things, a new mould technology is responsible for this leap in development. Ceramic coatings in the cavities prevent the otherwise typical foam streaks, weld lines, tiger stripes or gloss differences appearing on the surface of the foam moulded part. Additionally, different surface structures can be created directly in the injection mould via the cavity coating. Structural foam moulded parts no longer need to be painted, and there is no need for additional energy-intensive process technology, such as intermittent mould heating, for parts in customer-facing applications.
In general, structural foam moulding requires less energy and raw material, and uses lower clamping forces, than compact injection moulding. The dissolved blowing agent improves the flowability of the molten plastics. In addition, the foam moulding pressure, which is independent of the location, enables thicker ribs to be moulded. These effects can be used to reduce the wall thickness, which has a positive effect on the required cooling time and in turn on the cycle time.