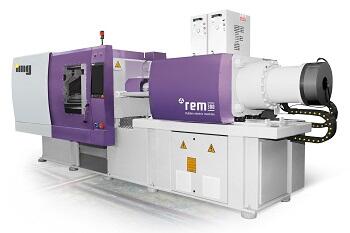 IMG, operating in the field of injection moulding machines for elastomers, presents the first full-electric moulding machine. Its name is REM 300, a highly innovative product, both in terms of performance and sustainability, with consumptions reduced by 40% compared to a hydraulic press.
According to the company, it represents a novelty in the rubber moulding sector, with a clamping force of 3,000 kN and numerous improvements. After decades using hydraulic presses (from the 1950s right up to the present day), the R&D department of IMG wanted to invest in the best technologies now available to prepare a machine capable of reducing the environmental impact of the industrial elastomer moulding activities.
The REM 300, which will be officially launched at K 2022, works without hydraulic oil, a substance that needs to be changed around every 5,000 hours. It turns out in a significant cost reduction in terms of supply and disposal, indeed with the REM 300 there is no more special waste to dispose. Moreover, as oil is a highly flammable substance, it represents a potential risk, which the REM 300 eliminates in favour of operator safety.
A step forward has been made also in terms of performance: the electronics of this innovative moulding machine allows a precise monitoring of all the functions and, therefore, a higher mould quality, handling of internal components and measurement and setting of working times. The electric set-up is user-friendly and allows less production waste, greater speed, precision and repeatability of actions to avoid non-conformities.
The REM 300 is equipped with new IoT devices (Internet of Things) such as vibration sensors, IO-Link transducers and drivers with predictive diagnostics memories for performance control, also via remote assistance. The machine guarantees reduced energy consumption thanks to the plug and play system, which releases power only when necessary.
"A technology that on the one hand already exists in the world of plastics, but on the other hand is brand-new in that of rubber. This is the result of the company's huge investments in research and development", Barbara Ulcelli, CEO of IMG, explains. "The three elements on which the market has become extremely sensitive and which therefore allow important spaces for growth are environmental impact, cost control, and safety. It's a radical change that IMG is making towards sustainability: a green vision that finds concrete expression in a product with revolutionary features. The REM 300 is a novelty in the field of elastomer moulding machines that, once again, proofs IMG's focus on continuous technological innovation to support its customers".
Last but not least, the REM 300 is very silent: it has a lower impact in terms of noise emissions and in a working environment where noise is a disturbing factor, this is another proof of the operator's needs awareness. The evolution goes beyond the product, because IMG guarantees a continuous assistance service for every eventuality. Thanks to its high level of innovations, the REM 300 is one of the winners of the Tech Fast tender of the Region Lombardy.