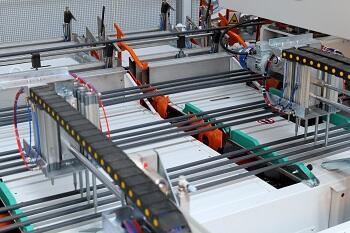 A high-speed multi-extrusion line was recently delivered by Sica to a processor of PVC-U pipes for cable conduits and the protection of electrical cables. The line has been designed to perform pipe pulling, cutting, belling and packaging operations and is able to handle quadruple-extruded pipes with external diameter from 16 to 63 mm.
The extrusion section is followed by a compact and combined Combo 63Q pulling and cutting off machine equipped with four independent caterpillars for pulling the extruded pipes, four cutting off units implemented to perform high quality cuts at high extrusion speeds, and a centralised vacuum system for collecting dust and chips.
The line then incorporates a Multibell 75Q belling machine specially developed for the processing of quadruple-extruded pipes with independent transit speeds. A new pipe sorting system can effectively manage the four extruded pipes simultaneously and form groups of two, three or four pipes, depending on their diameter.
The group of pipes is heated with a specific forced hot air oven equipped with a double automatic device for aligning the pipes, which are then heated prior to socketing in order to obtain end sockets of accurate, constant and uniform length for the entire group of pipes processed.
The belling machine is able to make both smooth sockets for gluing and sockets suitable for the insertion of elastomer gaskets. The sockets are cooled externally with a pre-chilled compressed air system and internally with a forming mandrel cooler using recirculated water.
The socketed pipes are then conveyed to the A10-63 strapping machine, which collects them from the pallet of the belling machine by means of special gripping arms and forms bundles of strapped pipes in different numbers and configurations that can be defined by the operator, in lengths ranging from 2 to 6 meters.
The strapped pipes are finally sent to a specific A607 overturning channel, which has the task of positioning the bundles, through a motorised belt, near a final collection cart, where they are unloaded after having been lifted. The entire line features perimeter protection barriers with photocells and interlocked access doors so that the entire process takes place in totally safe operating conditions.