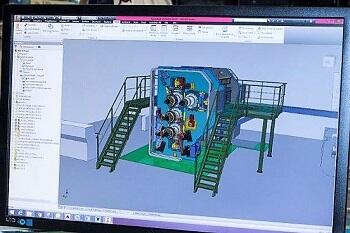 During the oncoming K 2022 international exhibition Comerio Ercole will present a new digital platform named Hercules40 which was recently introduced to supply a data-driven analysis tool for a continuous improvement of production process, including energy consumption optimization, as well as added value after-sales services. Thanks to the sharing of data on the platform, Hercules40 enables new digital services to increase the efficiency of the machines and optimize the customer process crating a data-oriented collaboration.
The manufacturer from Varese is more and more concentrated on the end user support and two new products have been recently developed supporting "on site" maintenance process without dismantling the equipment. With Sandblaster any need to keep and/​​​​​​​​​​​​​​​​​​​​​​​or recovery of a certain roughness is now permitted while Polisher meets any need to clean and recover rolls surface.
As for calendering, Comerio Ercole will present the new Flexi calender with high-precision hydraulic roll positioning suitable for PVC sheets, and designed with 4 or 5 rolls according to the type of processed product (soft or rigid PVC). The new inverted L calender configuration - engineered as Industry 4.0 concept - allows a wide range of applications as it is designed to work with 3 lamination banks like a 4 roll calender or alternatively with 4 lamination banks like a 5 roll keeping the same post calender stretching-embossing unit of the film.