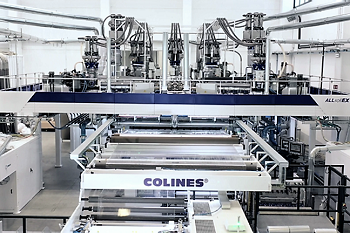 Less than a month away from the opening of Messe Düsseldorf gates for the K 2022 trade fair, Colines presents its exhibition program for the German event.
Visitors of its booth will have the chance to get in touch with all the latest technologial solutions achieved by its group of companies, starting with the latest generation of the world renowned cast line for stretch film ALLrollEX 3000mm. The line on show will be equipped with the revolutionary Mastermind system, proprietary technology developed by our company Elav, allowing automatic set-up of the extrusion line. The line will be running daily.
Two further lines running will be present at Colines booth: NoEl flagship pre-1000-3R, the most suitable solution for offline pre-stretched film production, and the new generation of our Allwrapper machine, the any-bundle wrapper using stretch film in place of shrink film.
"We are very proud of the show we have been setting up for our visitors", said Colines Marketing and Communication Director and Sales Area Manager, Gabriele Peccetti, "which involves three operating lines and host of new technological developments. Some are revolutionary for the market, such as the PE based stand-up-pouches produced with mono-oriented film extruded on our cast line; this is an absolute first on the market. We really cannot wait to meet our customers at the K 2022".