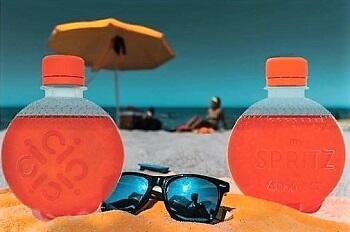 The boom of Spritz, now deeply influencing the beverage industry, has led Sipa to design a transportable packaging solution suitable for the immediate consumption of this acclaimed cocktail. The new concept is capable of conveying the true Italian spirit of the product, providing information about the ingredients and talking about sustainability in line with the "design for recycling" principles.
The research started by considering the growing demand for Spritz and thinking about a packaging designed for new consumption contexts, such as concerts, trade fairs, festivals, trips, booths, airplanes and home environments. Right from the start, the study took into account the following features: lightness; easy opening; ergonomic shape; easy disassembly; small to medium size suitable for transport; stability; ability to convey the sustainability of rPET, the main material of this packaging; information about the content and its ingredients; instructions for the disposal of each component; visible and recognisable product identity.
Sipa's solution consists of a spheric bottle recalling the shape of a chalice, and like a chalice it can be grasped from underneath or cupped in the hand. The upper part of the bottle is embossed just under the neck, with motifs evoking the ingredients and the characteristics of the cocktail. The packaging is completed by an identifying logo and a motto regarding the recycled material used. The cap, finally, shows the message "avoid release to the environment."
The result is a practical and versatile product that is lightweight, hygienic, economic, resistant, adaptable to various formats, easy to process, recyclable and printable. For large retailers, a different type of packaging has been conceived, too: a carboard triple pack designed to save space during storage and transportation.