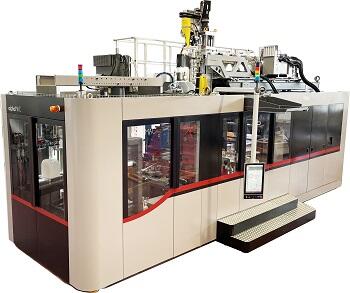 AlphaMAC recently introduced to the market an innovative solution for the production of plastic containers for industrial applications, a full-electric machine with integrated quality control stations to deliver zero defect products, with the use of a robotized anthropomorphic arm, which is up to day a quite singular and advanced solution in the EBM technology.
The machine in its full-optional version includes:
- in-mould pressure control to detect macro holes or container malformation with direct reject;
- weighting station with gross and net weight measurement in order to keep under control the process stability;
- deflashing on the horizontal position to assure the collection of the flashes by gravity, especially with sunken handles;
- twin post cooling stations, for an extended internal cooling, neck anti-ovality and bottom cooling;
- leak detection by pressure differential;
- vision control with multi camera system, for aesthetical defects on the walls of the containers, for example black dots;
- scanner to check neck ovality and diameter, handle shape and dimension, presence of eventual residual material inside the neck or flash in sunken handles.
The machine covers a wide range of applications, from generic monolayer jerry cans in high density polyethylene, multilayer containers with an extensive use of recycled and regrind material and certified jerry cans for dangerous goods in high molecular weight powder resins, produced with a specific extrusion screw and with thickness radial control.
The "in-line" layout design assures a compact floor occupation and an easy access for maintenance and for tooling changeover, with a particular focus to the head die cleaning operation, which can be done in a dedicated area thanks to the backward movement of the extrusion platform and the mould changing which is performed through an in-built transfer system.
The system, which collects both machine production and product quality data, is integrated to the machine last generation HMI with dedicated pages, allowing a constant control and a continuous improvement of the production process. The solution extends even further, with the integration of some peripherical systems data and controls like raw material dosing system, in-line leak tester etc.
The application of the "Industry 4.0" concept is complemented by the possibility to use a black box which not only monitors machine conditions in real-time 24/7 but collects raw data and translates them into meaningful and valuable information for the user:
- intelligent and dynamic action list for the operator to help improve efficiency;
- machine data statistics for smart line harmonization;
- real average performance for accurate production planning.
The system uses a new generation hardware that guarantees a connection with the maximum standards available in terms of cybersecurity.
User has a total control of the machine information (including state and alarms, OEE, efficiency loss, benchmarks, fault analysis) and the possibility to set production batches, monitor the progress over time and the expected product arrival date and time.
More information at www.alphamac.it