From 7 to 23 June, at its headquarters in Fusignano (near Ravenna, Italy), Baruffaldi Plastic Technology is hosting the demonstration sessions of the Povi 10000 machine for the automatic punching and coining of PVC and PC/ABS cable conduits in sizes from 15x15 mm to 100x150 mm at a speed of up to 12 meters per minute.

The Povi range includes machines for the in-line and off-line punching and coining of electrical and wiring conduits made of PVC and PC/ABS. These modular and flexible machines are able to process all conduit sizes currently available on the market. The Povi 6000 hydraulic version allows the in-line punching of cable conduits and single-wall PVC cable trunkings at the speed of up to 10 meters per minute. The Povi 5000 and Povi 10000 models for off-line punching can reach speeds of up to 12 meters per minute. These models are also equipped with an innovative system for handling the conduits inside the various stations of the machine without leaving any visible mark on the bottom of the conduits themselves.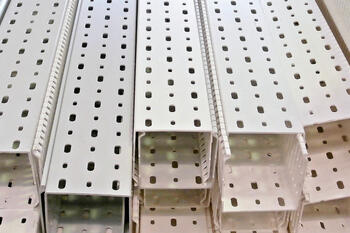 The technical features of the Povi 10000 (and the Povi 5000) include: punching and coining unit with two horizontal heads for the side slots and one vertical head for bottom punching; sensors to detect the profile and avoid jamming; proportional valves that ensure high accuracy in the punching process regardless of the conduit thickness; soundproof cabin to reduce noise levels; 20-40 kW power supply; hydraulic unit pressure 120-170 bar.