For the injection moulding of plastic waste and scrap, in particular WEEE waste, without any pre-treatment process, the Venetian manufacturer Wintech decided to incorporate the twin-screw extruders from Bausano into its rotary presses. The extruders feature the degassing system, also developed by the Piedmontese manufacturer, that is able to completely eliminate residual moisture and any volatile compounds.
After the injection stage, the product is cooled in a multi-station carousel in order to guarantee high piece/hour productivity from small to large formats, such as tiles, floor coverings, speed bumps, sign bases and road barriers. The machines developed jointly by the two companies will be fully customizable and thanks to the Multidrive transmission system and the induction heating of the extruders energy consumption is reduced by up to 30-35%.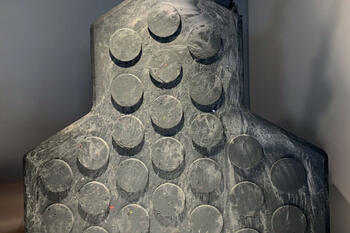 "Aware of the difficulty of dealing with such materials, which require cleaning prior to reuse, Bausano continues to invest in creating a technology capable of reintroducing plastic waste into a valuable production cycle. This is, in fact, a further step forward with regard to non-homogeneous or highly polluting waste, which is outside the standard channels of the circular economy" said Marco Masiero, R&D Test Engineer at Bausano.
"A project under the banner of the circular economy for a totally integrated and extremely efficient and reliable plant, capable of transforming waste into a new, 100% sustainable product. To the question of whether it is possible to recycle waste materials, Bausano responds with facts, with a system that gives new life to this difficult-to-recover waste", Masiero concluded.