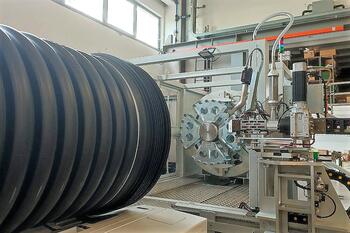 One of the relevant projects recently developed (and patented) by Baruffaldi Plastic Technology is represented by the SRM and IAM-S machines (both Primac branded) for joining the socket to the end of the pipe.
Both machines can work inline after the cutting saw and offline. In the inline version, the pipe is diverted from the extrusion line onto the machine bench, where an automatic pick-and-place unit positions the socket at the end of the pipe. The SRM, the model that Baruffaldi presents at Plast 2023, is a welding machine for corrugated pipes, that welds the socket to the pipe by means of a single-screw extruder affixed to a stationary arm, while the IAM-S. is a friction welding machine for both smooth and corrugated pipes, that inserts and welds the socket onto the pipe end by means of a spin welding system in which the socket rotates around the pipe, kept in the right position by means of the special clamps. Moreover, the machine is equipped with a device for automatically testing the welding quality, rejecting the defective pipes. To complete the range, the welding machine can be equipped with the IAG automatic unit for picking a rubber seal from the storing unit and inserting it in the first corrugation groove.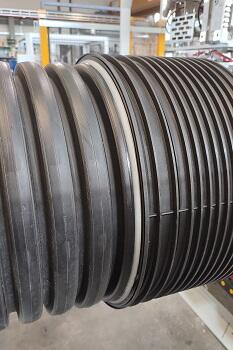 Baruffaldi Plastic Technology offers various pipe handling systems according to the customer's specific production needs and its production spaces such as, for example, the unloading under the machine or the palletizer. SRM and IAM-S machines weld the sockets in a fast and reliable way. The welds will keep their integrity even if the pipe is stored for a long time or laid incorrectly, the rigidity of the socket also prevents ovalization.
These socket welding machines cover, in the various versions/dimensions, a wide range of pipe diameters ranging from 32 to 630 mm for the IAM-S and from 110 to 1,400 mm for the SRM. Pipes can be long up to 12 meters. Moreover, the machines can be customized to meet the specific needs of the customer. Last, but not least, all Baruffaldi machines are equipped with the Smart Industry platform, the company Industry 4.0 platform, which allows the customer to easily read production data and receive immediate remote assistance in case of problems.