The constant innovation of Arburg in the market of injection moulding machines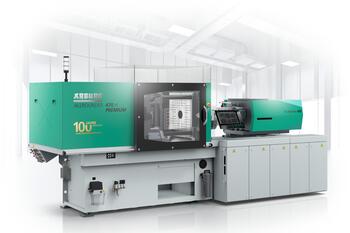 Founded in 1923 in Lossburg, Germany, Arburg is one of the world's leading manufacturers of plastic processing presses. It is a multinational company with 3,600 employees, 35 locations in over 100 countries and numerous business partners. Raffaele Abbruzzetti, Managing Director of Arburg in Italy, explains.
"Arburg is constantly looking for new solutions to be even closer to the customer's needs," begins Raffaele Abbruzzetti. "At the moment we can offer very interesting solutions for energy saving, one of the most important issues for companies. And this commitment is reflected both in the existing fleet of machines, with service packages that allow machines to be retrofitted, and in the new machines with electric technology, not to mention the latest addition, the 470 H (pictured above) with hybrid technology (electric clamping and hydraulic injection): a good compromise for those who want to save money both in terms of operation and investment, without neglecting quality and precision in the control of parameters.
In addition to technology, Arburg complements digitization-oriented solutions, on which Abbruzzetti continues: "We also offer digital solutions that help customers increase production efficiency and reduce waste. These include our MES, called ALS, which monitors and increases the company's OEE, and on-board software service packages. These solutions, combined with the Gestica machine management system, enable automatic and intelligent adaptation of processes and machine parameters to the materials and workpieces being processed.
The company is also at the forefront of one of the major issues at the forefront of attention, namely sustainability, on which Arburg reports and emphasizes the contribution its solutions can make.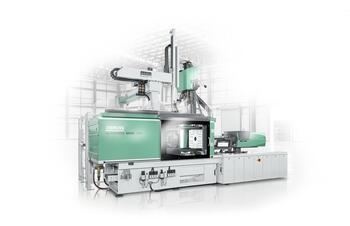 "Here too, we are moving in different directions," continues Abbruzzetti, "We have a certified 'green' machine production. Each new machine sold is accompanied by a document certifying the CO2 impact of each type of press produced. There is also no shortage of energy-saving and waste-reduction solutions, as well as machines with special hardware and software for processing recycled materials, even post-consumer ones, which are the most difficult to process. This aspect is becoming more and more important, as we are seeing more and more technical parts that contain at least some recycled material".
Finally, the inevitable thought of Plast, which is just around the corner, an event on which Abbruzzetti comments: "At the show we will be exhibiting applications with recycled or bio-based materials, we will have a stand for our digital products and one with our service colleagues. As far as machines in operation are concerned, there will be our new hybrid centenary press, the 470 H, which will produce a silicone product from solid material. A few steps away from our stand, our partner Sverital will also have a press printing liquid silicone so that we can compare the two moulding methods. We will then have two packaging applications: one in collaboration with another important partner of ours, Giurgola Stampi, and one with an interesting automation from the company Brink, capable of extracting PP containers after moulding the labels using an IML process. We will also be showing a medical application, using our AMK motors integrated into the mould and controlled by our press, to demonstrate how it can handle movements without hydraulic jacks, thus also reducing external automation during the extraction phase. This application runs on a state-of-the-art "More" type bi-material press. 
At Plast, Arburg staff will be on hand to provide exhibitors and visitors with technical advice, new solutions and, why not, even a drink together.