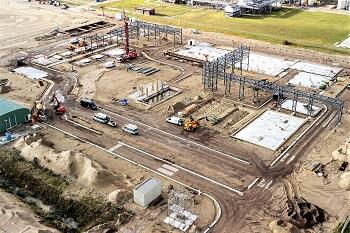 The leading technology company in renewable chemistry, Avantium, and the global leader of adhesives, sealants and functional coatings, and leading manufacturer of well-known consumer brands, Henkel, have signed an offtake agreement for five years, under which Avantium will supply Henkel with FDCA (furandicarboxylic acid) produced in Avantium's FDCA flagship plant, currently under construction in Delfzijl, the Netherlands. Avantium expects to start production at this world's first commercial facility for the production of FDCA from plant-based sugars in 2024. Henkel will purchase FDCA to launch innovative, high performance polyurethane adhesives in electronics applications, enabling their customers to realize their sustainability goals.
Henkel and Avantium have been partners since 2019, when Henkel joined the PEFerence consortium. This consortium of partners, coordinated by Avantium, aims to establish an innovative supply chain for FDCA and PEF (polyethylene furanoate). As part of the PEFerence project, Henkel has tested and positively evaluated the feasibility of FDCA for the use of polyurethane adhesives. Now Henkel has decided to proceed and bring those adhesives to the market for the use in electronics applications, such as consumer devices.
For many years, Henkel has been committed to sustainable business practices. As a market leader for adhesives, sealants and functional coatings, Henkel is making an important contribution to climate protection by embracing innovative solutions that facilitate recycling and enable CO2 savings across the value chain. "Henkel is constantly innovating high-quality and sustainable adhesives to support our customers and ecosystem partners in their implementation of a circular economy. Avantium's 100% plant-based FDCA enhances our strategy to incorporate renewable carbon into our technology roadmap while offering improved performance in our products. We look forward to continue working with Avantium in the years to come. For us, this is just the start as we see high potential for FDCA in application areas beyond electronics, such as packaging, wood construction or
textile lamination", Adrian Brandt, Head of bio-renewable materials team at Henkel Adhesive Technologies, said.
"We are very pleased that yet another partner of the PEFerence consortium has decided to sign an offtake agreement with Avantium. One of the benefits working with such diverse group of reputable companies within the PEFerence consortium is that it enables us to create new applications for FDCA and PEF. The decision of Henkel to use FDCA for polyurethane adhesives for use in electronics applications is a great example of the possibility to use our high-quality, plant-based chemical building block FDCA in various markets and applications", Bineke Posthumus, Director Business Development of Avantium Renewable Polymers, added.