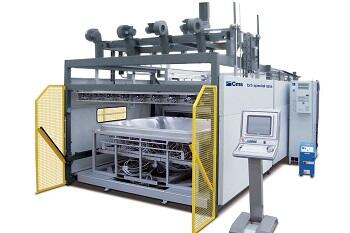 For the wellness-SPA market, CMS has devised a modular thermoforming system capable of offering solutions to meet every demand from standard products to large swim-spas.
CMS's BR5 special SPA is extremely scalable and can reach a maximum sheet length of 12 meters. Advanced features such as auto-load, adjustable clamp frame, and mould extraction systems provide options for automation and increased throughput.
The new machine features: significant initial investment savings over standard zero sag thermoforming machines based on targeted features for wellness-Spa products - an estimated total upfront savings of 45%; 23% increase in the thermoformable area compared to industry standards and competitive equipment; 65% drop in loading and unloading time thanks to the motorised automatic extraction mould with brushless movement; a wave heating system ensuring top performance in terms of cycle time while maintaining best in class quality; easy to use HMI combined with intelligent process control guarantees maximum process stability and control; adjustable clamp frame and dedicated vacuum management ensures edge quality and part consistency.
The automatic cycle touches the inside surface of the tank ascertaining the actual surface on which the holes lie and then recalculates the correct measurements of the rotary axes; this allows to machine with the right routing angle and above all achieve even thickness reductions in relation to the internal surface.