Every year, Comi invests 10% of its turnover in the research and implementation of new technologies and new patents, focusing in particular on Industry 4.0 solutions. It is just in this area that the company's cooperation with Siemens achieves its maximum effect, with the aim of implementing a strategy for the digitalisation of machines. The choice of Comi fell on WinCC Unified as a technologically modern software, easy to use but with advanced customisation capabilities which is above all open for the exchange of data with external systems. Thanks to WinCC Unified, Comi has been able to design smarter, innovative and easier to use machines.
Thanks to WinCC Unified, the operator's activity has been improved, moving from a complex manual procedures that required the training of qualified personnel, to the configuration of the preheating platen in completely automatic mode, thanks to the development of ad hoc graphic objects (Custom Web Control) that perfectly integrated into the program pages. It has also been possible to automatically adapt the functions of the interface to the different users (administrator, maintenance engineer, machine operator) with the possibility of receiving targeted notifications in case of malfunction.
In addition, the user interface, being web native and featuring scalable vector graphics, ensures complete control of the machine in a simple and immediate way without loss of quality both locally and remotely, and with different devices, such as PC, smartphone or tablet. The ability to create custom libraries in the Totally Integrated Automation Portal (TIA Portal) - both for the PLC and for the HMI – has led to the creation of a company standard, thus speeding up the realisation of new automation projects.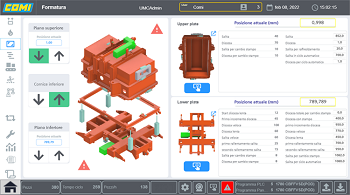 The collaboration between Comi and 40Factory, a technological start-up from Piacenza active in sectors such as Industry 4.0 and the digitalisation of machines, industrial equipment and devices, was fundamental for the design and implementation of this HMI in its final version. Of particular importance are features such as automatic parameterisation according to the characteristics of the product, and automatic diagnosis for an easy identification of the causes of failures.
All these features have fully satisfied Comi, whose goal was to offer its customers a full-fledged solution incorporating state-of-the-art technologies and able to achieve high performance levels. With the new solution it is estimated that productivity has been increased by approximately 10% with a substantial reduction (10%) in cycle times, waste and time for training and  troubleshooting. 
Innovation for Comi does not stop at the HMI: the company is already implementing the software for the creation of a digital twin able to faithfully replicate the machine, simulating its behaviour and thus allowing tests and modifications before starting the production of the real machine.