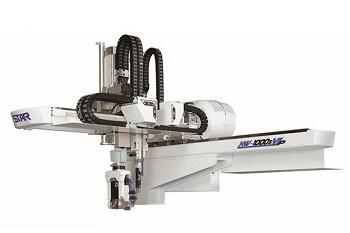 Many applications of Star Automation Europe product range will be on display at the company booth at the K 2022 show, starting from an XW-1000VIP cartesian robot displayed on a Shibaura EC180SX3-8A injection moulding machine.
It is a preview of the new XW-VIP cartesian robot series, which soon will replace the XW-VI series as the main product in the company range. The main novelty of the new series is certainly the brand-new servo-head, which integrates for the first time three servo-motorised rotation axes in only one accessory at the end of the vertical arm. This allows transforming a three-axes cartesian robot into a six-axes machine to attain versatility and fluid movements. The robot will extract eight PP syringe barrels from a Ruhla mould.
The Stec-520B controller features the optimization of some functionalities for the sake of user-friendliness and safety, as well as the introduction of several novelties, such as smoothing function for the optimization of the movement trajectory, automatic speed self-change in the proximity of the target position for a better positioning precision, and QR code reading function which allows the operators to access help menus, instruction manuals and other valuable documentation. Moreover, in the PCS software for the remote maintenance of the robot, the 3D simulator function of the robot movements is now a standard feature.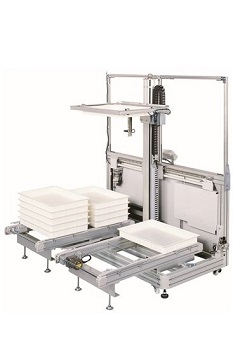 The company booth will also display a XW-1200VI robot managed by a Stec-620A controller, characterised by a completely reviewed and renewed operative system, particularly suitable for vision system applications. The robot will be positioned over a pool table with 12 balls in random positions, which it will detect through a camera and will stack in different jigs according to their colour. The third, and last, robot at the booth will be an Es-1200II model, operating together with the company M-70IVSII pallet changer, for palletising ladle rests on trays; once full, the trays will be moved away by the robot.
Eins components will be also on display at the Star Automation Europe booth, in particular tool changers usable on all cartesian and six-axes robots. An automation cell with a Fanuc LR Mate 200iD robot will handle four different EOAT (one with magnetic gripper, one with suction cup with sponge, one with threefinger gripper, one with pad-in-pad system) as examples of the applications of Eins products.
Beyond the Star Automation Europe booth, three XW-1000VI robots will be working on three different injection moulding machines (EC75SX3, EX180SX3 and EC230SX3) at the booth of Shibaura Machine Europe, while a ZXW-1600VI robot will be working on an eKW85pi injection moulding machine at the BMB booth.