From June 15 to 17, Moretto is attending Rosplast 2021, the Russian exhibition held in Moscow. For the Italian company, Rosplast is a very important occasion to present the Russian market with its latest innovations for plastic materials processors in the automotive, medical, textile, beverage, packaging, electronics and cosmetics sectors.
The drying phase is one of the most energy consuming parts of the whole transformation process. For the drying segment it showcases X Comb, a super compact full electric mini dryer that achieves perfect polymers drying while maintaining an absolute treatment consistency, reducing residence times and increasing efficiency.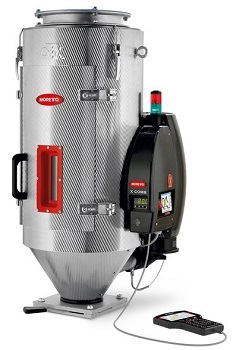 Additionally, Moretto displays Moisture Meter, the polymers moisture analyser that eliminates the need to perform offline analysis on individual samples as it carries out accurate real-time checks on all material before processing. Moisture Meter reduces operating costs, improves energy efficiency and enables certified production.
Among the solutions dedicated to dosing, visitors are able to see DGM Gravix, a machine that offers complete production flexibility up to 12,000 kg/h, accurate weighing even in the presence of mechanical stress (Vibration Immunity System) and extreme precision through the eyelid shutter with a reaction speed of 25 ms.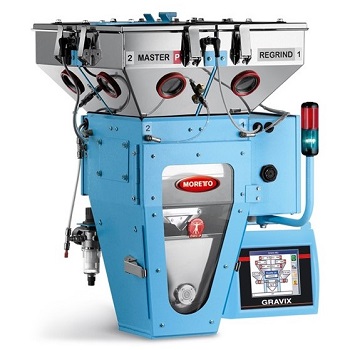 The DPK is also displayed at the fair, a gravimetric loss-in-weight dosing unit suitable for intermittent or continuous dosing of small quantities of master batches or additives that prevents overdosing by achieving an accuracy of ± 0.3%. DPK features a transparent acrylic hopper that allows the operator to see the machine status at any time and from a great distance.
The Te-Ko temperature controllers, developed to efficiently and accurately control the temperature of the injection moulds and extruder cylinders, completes the exhibition.