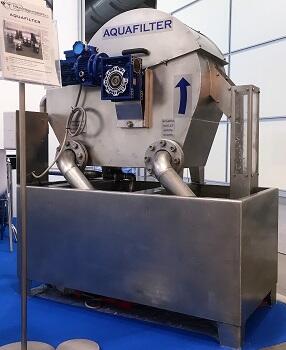 At the Ecomondo fair, running in Rimini from 8 to 11 November, Sorema is showcasing its technologies for plastic waste recycling along with the water treatment plants by Teknodepurazioni Aquae, a company of the Previero group based in Rivarolo Canavese (near Turin), specifically developed for this use. Teknodepurazioni Aquae specializes in the treatment of industrial wastewater, boasting years of experience in the control of water quantity and quality between treatment plants and washing systems for PET or other plastics. At the Rimini fair, the company is also exhibiting its Aquafilter model AF 700 in operation.
Aquafilter is composed of a stainless steel casing divided into three separate chambers, for feeding the liquid to be filtered, for discharging the filtrate and for draining the overflow, respectively. The filtering action is implemented by a set of rotating discs featuring a fine-mesh filter capable of retaining suspended solids with a minimum size of 50 microns. The liquid to be filtered is introduced between the rotating discs: the liquid passes through the filters, while the solids are retained between the disks where they gradually accumulate.
Due to their weight the accumulated solids tend to roll and rub the surface of the discs, exerting a self-cleaning action of the filters. When the volume and thickness of solids reaches a certain level, the excess part is automatically discharged through the front opening between the rotating discs. The residual moisture of the discharged solids can be set by adjusting the speed of the discs. The solid accumulated on the filters creates a layer that enhances the filtration capacity. The filtrate is then discharged through openings and can be successively recycled or treated.