CMG Granulators takes part at PRSE (Plastics Recycling Show Europe) 2023 on 10 and 11 May in Amsterdam, where it introduces a brand-new cutting chamber design for its Evoluzione granulators range. The new rotor configuration allows the rotor blades to cut the plastic feedstock perpendicularly against the bed blades, obtaining the highest degree of cutting penetration and precision.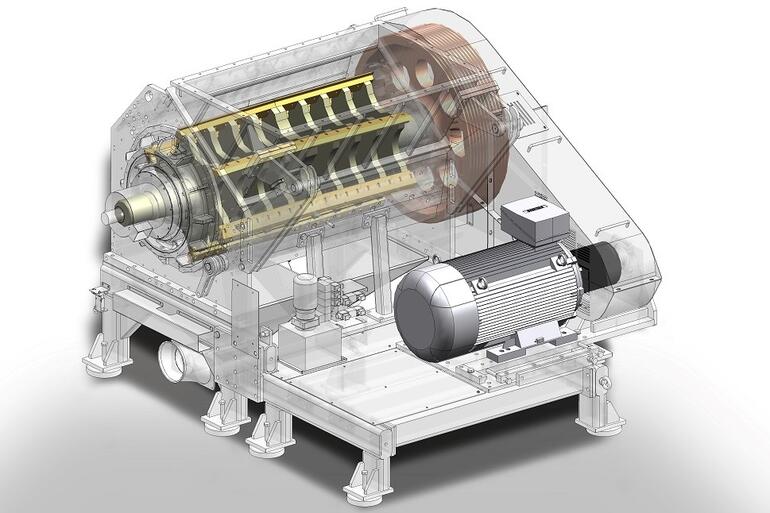 The rotor blades are mounted on the edge of the rotor holding modules and not on a holding block. Not only this feature is beneficial, as the inclination of the rotor blades is very high, but it also allows easy and quick servicing/replacement of the blades, with comfortable access from the front of the machine.
The rotation of the rotor does not produce the very detrimental "drag" effect, meaning the mass of material being ground in the cutting chamber does not rotate with the rotor producing lots of dust and fine particles, that will all become waste through the washing line. The production of fine particles is reduced to few percentage points, versus a common 15% or more from conventional granulators. The rotor is of open type design, taking only 30% of the cutting chamber volume.
The rotor/cutting chamber volume utilization ratio is 30/70, versus alternative ordinary granulators with 70/30 ratio. This feature alone allows more than double the quantity of material in the cutting chamber. The more is the material in the cutting chamber, the higher is the capacity of granulation. The new cutting chamber has the so called "tangential set up". Such characteristic confers voraciousness and guaranteed bite, with no need of feeding aid devices, commonly utilized with conventional granulators.