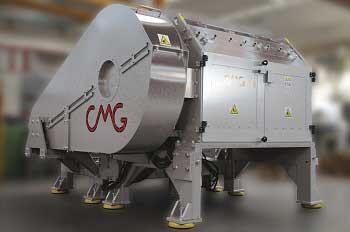 At Mecspe (BolognaFiere, 29-31 March) the recycling machinery manufacturer, CMG Granulators, will be exhibiting its latest innovations dedicated, in particular, to injection moulding, blow moulding and post-consumer recycling sectors. In addition, Giorgio Santella, general manager of CMG Granulators, will be a speaker at the Green Plastix Arena, where, on March 31st, he will illustrate the Evolution series of energy-efficient solutions for post-consumer plastics recycling, available in the EV916 and EV616 versions for water or dry granulation processes under the most critical operating conditions  that require high performance and versatility, with output capacities from 2,000 to over 5,000 kg per hour.
The Evoluzione models guarantee operational consistency and superior resistance to wear, thanks to engineering solutions such as the use of Hardox harmonic steel and assembled modular structures, a precision down to the hundredth of a millimeter in the construction of the cutting chamber to extend the life of blades, advanced controls for Industry 4.0 environments to ensure 100% monitorable and manageable processes. Operating temperature, blade wear, productivity, operation, energy efficiency are all functional parameters that can be managed directly on board the machine or remotely via OPC-UA connection.
For on-board use on injection moulding and blow moulding machines, CMG will be exhibiting the high-precision G17 granulator and the low-speed grid-free SL granulator. The former, featuring world class performance levels, is available in the ET1 and ET2 configurations suitable for extrusion applications. Efficiency and flexibility combine to achieve output capacities between 5 and 90 kg per hour in the production of regrind of homogeneous size and free of dust. The SL series of low-speed grid-free granulators instead consists of 4 models that cover output capacities from 5 to 30 kg per hour thanks to excellent application efficiency and flexibility as well as ease of cleaning.