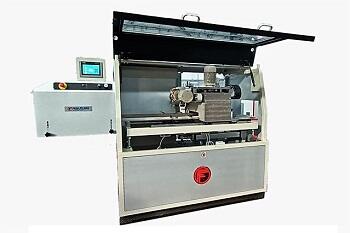 Developed by Friul Filiere for the processing of plastic profiles, the new TGD 300 cutting unit cuts precisely and without leaving any residue on the profile, which therefore does not require any further finishing.
Clean and precise cuts are obtained thanks to a special toothless circular blade of 300 mm in diameter. The steel support, carries the gear motor with blade and slides transversally by means of linear guides and ball bearings slides, while the magnetostrictive position transducer ensures precise control of the cutting range.
The pneumatic cylinders equipped with pressure and flow regulators and  adjustable vertical guide rollers are located at the cutting unit entrance. The front opening door features safety micros. The machine can be equipped with a motorised extraction belt for soft profiles and an additional fastening belt supports to the cutting system carriage.