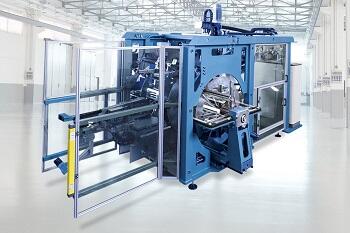 The TR1000PE double-head automatic coiler from FB Balzanelli Excellence range is suitable for coiling smooth PE pipes with an external diameter from 16 to 32 mm and is available with one or two strapping units and manual or automatic adjustments.
An American customer of FB Balzarelli which uses two TR1000PE coilers recently had to replace most of the mechanical, electronic and pneumatic components of the machines due to the wear caused by their prolonged use. The Italian manufacturer, after having evaluated to send the spare parts to the customer, which would have had to replace them by itself, proposed the revamping of the two machines, that have been sent back to its facility and underwent to a complete restoration. The intervention consisted in the complete disassembling of the two machines, in the re-machining or replacing of the mechanical parts, in the replacing of all electrical and pneumatic components, in the repainting of the whole machines structure and in the replacing of all safety protections with new LED systems.
Automatic TR1000PE coiler consists in two reels side by side fully adjustable and tools for measuring the pipe sizes and programming the work recipes, thus obtaining reels without the operator intervention. The machine allows the perfect coiling of PE irrigation pipes and reaches the optimal reel sizes thanks to the adjustment and the repeatability of processes through the recall of the stored recipes.
Reel inner diameter and width are adjusted by a manual or automatic centralized mechanism that is programmable through the main panel, as well as all the adjustable coiler components. Through the pipe guide integrated system, the pipe is perfectly distributed by means of three driven axes. The on-board cutting device allow the pipe cut at the input length, while one or two pneumatic strapping units with high dynamic applies the programmed number of final and intermediate straps.