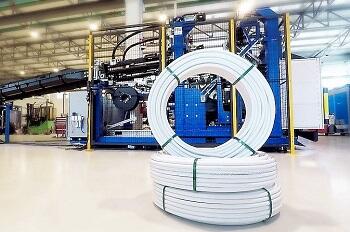 Suitable for coiling PEX-AL-PEX and pre-insulated pipes, the DR0901M W3 automatic coiler from Premium series of FB Balzanelli consist in two reels side by side, adjustable according to the pipe dimensions and programmable according to recipes, to obtain coils without the presence of the operator.
Pipe reaches the coiler inlet from one or two feeding channels that help to guide it avoiding it touches the floor and, therefore, the risk of damaging it. On demand, before these channels an off-board cutting device can be integrated to cut the pipe inner metal layer.
In the layout with dual channel, after the cut a switcher directs the pipe into the channels themselves, at each end of which a pipe-guide is installed for regularly distributing the pipe onto the reel. A pneumatic strapping unit applies the number of programmed intermediate final straps when requested, increasing the coiler overall performance.