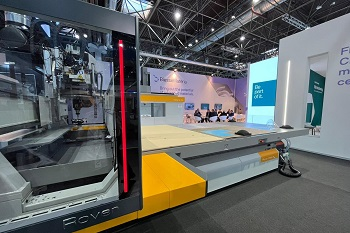 At the K 2022 show, Biesse put on display the most innovative technologies designed for all the machining phases of plastic and composite materials, showing the evolution of the production process which is now more efficient and intelligent thanks to innovative machines, software and advanced tools. The Rover Plast A FT multi-function numerical control machining centre for working large and small sheets of plastic was on display, along with the Materia CL machining centre for the large-scale trimming, milling and 3D modelling of model-mould resins of plastic and composite materials.
The former stands out for its optimum precision, quality and machining variety: Rover A Plast FT is, in fact, the ideal solution for machining the most common and highly requested materials on the market such as PE, PP, PVC and PMMA, but also composites and technopolymers, extruded and foam rubber materials in various formats, sizes, thicknesses and densities. The extremely rigid and well-balanced structure can withstand notable machining strain and ensure high levels of precision. The second machine on show is the Materia CL 5-axis machining centre that can handle extreme work requirements: designed and built to work large quantities of advanced materials, composites with complex forms, special or stratified resins for mould models, Materia CL is particularly recommended for the automobile, moulding, aeronautical and boating industries.
K was also the perfect opportunity to show off the advantages of the software packages available on all the numerical control technologies and integrated with the machines to guarantee excellent ease of use for the operator - in particular Smartconnection, the new software for managing job orders in-house from generation through to scheduling and their effective production start-up.
​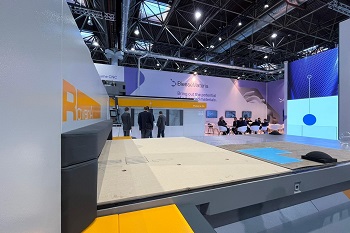 Furthermore, over the past two years, Biesse launched a thorough process of modernisation of the group, with the aim of becoming faster and more innovative. The new visual identity, deemed necessary to align group and brand positioning, was unveiled to customers at K; it conveys the group's new values and identity while still retaining the distinctive features of the various sectors in which it operates. "Biesse's evolution will benefit our customers, as well as allowing us to compete in an increasingly changeable market. Due to the all-encompassing nature of this transformation, we decided to explicitly express it through a new visual identity" declared Roberto Selci, CEO of Biesse.