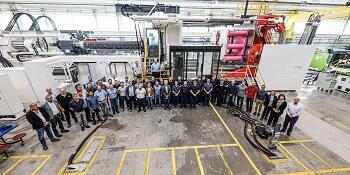 Austrian injection moulding machine manufacturer Engel has set a new record with two injection moulding machines delivered to the USA. With a clamping force of 8,000 tons each, they are the largest machines ever built at the St. Valentin plant in Austria. The two Engel duo 130000/130000H/8200 combi US machines were placed at Infiltrator Water Technologies (IWT) in Winchester, Kentucky. The subsidiary of Advanced Drainage Systems (ADS) produces water management products there.
The two duo injection moulding machines each have two 85,000 cm³ injection units which allow for injecting a total shot weight of 122 kg. The giant machines have a total length of 29.3 meters and a width of 6.4 meters. This can be considered a relatively small footprint compared to the clamping force and shot size. This is where the two-platen design of Engel large-scale machines shows its strength. Engel is increasingly receiving requests for custom solutions in the extremely high clamping force range. Clamping forces of 10,000 tons and more are possible. Machines of this size can process individual shot weights of several 100 kilograms of material and achieve material throughputs of two tonnes per hour.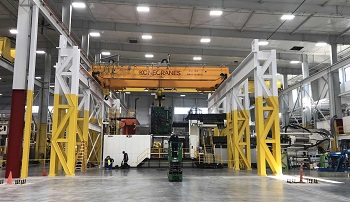 Even though the St. Valentin plant is accustomed to building large equipment, working on these two huge machines was special to all team members involved. "I am proud to have been a part of this," said Jim Moran, Business Development Manager at Engel North America. "You can imagine the special shipping and ground transportation arrangements needed to move the machine from Austria to the U.S. The platens were transported to and from the St. Valentin manufacturing facility along the Danube River on barges," Moran explained, just one of many challenges that had to be overcome. He continues: "Each machine was fully assembled and tested prior to shipping and then disassembled to be shipped to the US."
Once at the Infiltrator site, the enormous size and scale of these machines, required new manufacturing facilities to house them. David Gedritis, Director of Manufacturing Capital Implementation, describes the logistics coordination necessary to complete the new 59,000 square-foot building expansion at the same time 29 truckloads of machine parts were arriving from Austria. Over the next 2 months the machine was assembled while the building and all the necessary auxiliary equipment and utilities were installed. A 150-ton overhead crane was installed for moving molds in and out of the machine and was also used to help assemble the new press. Dozens of individuals worked on the project completing thousands of hours with a perfect safety record. "The work ethic of the Engel team was incredible as they worked long hours, including weekends to finish the machine assembly and turnover to Infiltrator in rapid fashion."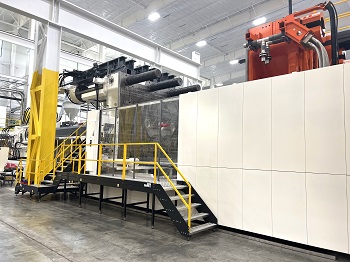 It was a hand-in-hand journey imagining, designing, and building these machines. "We chose to work again with Engel based on our existing relationship and previous capital projects that were delivered on time and on budget," said Ron Brochu Vice President of Manufacturing for Infiltrator. "Not only does Engel work with us to specify the right equipment, once installed the equipment has an excellent track record of operation and production. Reduced downtime and greater throughput are a hallmark of Engel equipment." Engel received the purchase order in November 2020. The handover of the first machine was completed in February 2022. Now, a year later, the second machine, a replica of the first, was delivered.
"We are managing a precious resource, water, through innovative products, using a high content of recycled plastic," said Scott Barbour, President, and CEO of ADS. The company recycles more plastic than any other in North America. As a result, ADS was recognized for its commitment to recycling by receiving the number 1 ranking by Plastics News in 2022. "We have made significant investments in new equipment, and this will allow us to produce our products more effectively and efficiently," said Bryan Coppes, Vice President of Engineering and R&D at Infiltrator. "It is the new capabilities and opportunities for continued product development that is truly exciting. This new equipment will allow us to continue to bring new and innovative products to market and meet and exceed our customers needs."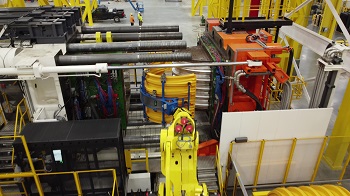 "A project like this one is always a challenge. Along with the size of the machines, the innovation required, and the related investment comes a certain risk. However, our long-standing partnership, mutual trust, and truly just understanding what is essential for the other party helped tremendously," concluded Vanessa Malena, President of Engel North America. She adds: "We are excited to see what we have accomplished together. When developing solutions with our customers, we endeavor to surpass the limits and contribute to their success and growth with forward-thinking design and manufacturing."