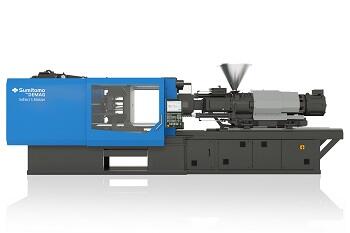 The moulding specialist Sumitomo (SHI) Demag releases new mid-size IntElect S high-speed energy-saving range globally. Engineered specifically for high volume packaging, medical and automotive applications requiring the highest processing precision in the fastest cycle time, the company is accelerating its global expansion of the IntElect platform.
Filling an important gap in the mass-manufacturing market, notably thin-wall packaging, the company is releasing new sizes within its IntElect S all-electric high-performance injection moulding machine range, including medium clamping force (mid-size) machines between 220 and 450 tons. Product Manager of the IntElect series Peter Gladigau (picture below), emphasises that with this latest release moulders requiring cycle time speeds of between three to 12 seconds now no longer need to compromise on any aspect of productivity, energy efficiency and processing speed and stability.
By expanding the IntElect S series, Sumitomo (SHI) Demag is resolute in its ambition to open up the all-electric moulding machine market and the associated benefits to even more product applications, including low part weights and narrow tolerance components. Positioned squarely between the conventional IntElect all-electric series and the new high-speed packaging injection moulding machine PAC-E, the IntElect S is geared specifically towards plastic processors mass-manufacturing narrow tolerance and thin-walled components at the fastest speeds.
"Cycle times of between three and twelve seconds and injection speeds of up to 350 mm/s are the typical range of this machine," reports Gladigau. He draws special attention to the resilient, high performance drives, shorter clamp spindles and longer service life. Culminating in faster acceleration of the injection speed to achieve on average a one second cycle time saving when compared to a standard IntElect model.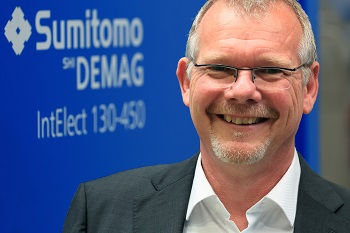 The IntElect S mid-size range caters specifically to high performance applications with the shortest cycles, high material throughput, which typically consumes more energy affirms Gladigau. "Given the rapid rise in energy prices, counteracting the impact on rising manufacturing costs through higher productivity, processing repeatability and reduced waste is increasingly imperative with regard to competitiveness. For this very reason, market interest in our IntElect S series remains very high," reports the product manager.
Indicative of the current energy challenges, for packaging applications, the IntElect S can lower energy consumption to between 0.25 to 0.32 kilowatt hours per kilogram, states Gladigau. Citing it as the epitome of mass production efficiency, compared to hybrid machines this increased production capacity combined with saving tens of thousands of euros per year on energy , can result in one of the fastest machine paybacks.
Benchmarking dry cycle times on thin wall packaging products with equivalent electric systems on the market, IntElect S remains at the forefront of innovation and energy efficiency, assures Gladigau. Featuring optimised tool movement, nozzle position, injection and ejector movements and metering speed, the IntElect S model outperforms previous generations of IntElect machines. "Increasing the capacity of the IntElect's braking energy recovery system not only improves energy efficiency but also extends the lifespan of electrical components and capacitators. Verified by extensive machine and part lifecycle durability tests, notes Gladigau. Clamp spindles tested under the hardest conditions showed no evidence of visible wear after millions of cycles. Guaranteeing safe operation of the machine, even in the fastest-cycle applications.