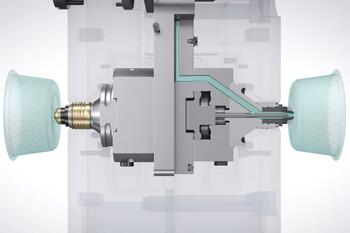 Designed to withstand high filling pressures, the new compact stack mould, engineered by the hot runner manufacturer Oerlikon HRSflow for thin wall packaging applications, is equipped with the new Xd nozzle series. The innovative patent-pending solution, soon available on the market, enables fast injection and cycle times in a stable process with high part weight consistency. Moreover, assembly and maintenance are simplified and highly efficient thanks to a plug-and-play installation thus avoiding long and costly downtime. The system, which enables the use of smaller injection moulding machines, fits a maximum plate thickness of 220 mm and a minimum distance of 260 mm from gate to gate of coaxial nozzles.
A demo tool equipped with this new technology is available in the Oerlikon HRSflow Test Lab. Customers can run product trials with their most challenging polymers. The Test Lab is equipped with six injection moulding machines - from 50 to 1000 tons - to offer customers the possibility to define the best hot runner configuration for their specific applications. The new Stack Mold has also been developed to process PCR resins and sustainable compounds according to future needs which are increasingly connected to circular economy.
The tool has been designed to produce a 210 ml single-serving cup in R-PP with a weight of 6.3 g and a thickness of 0.3 mm. The mosaic frame on the part walls - patented by Collomb - allows a robust structure despite the part weight reduction. The new Xd nozzle series ensures a stable injection pro-cess and the maximum productivity at a lower cost per unit.