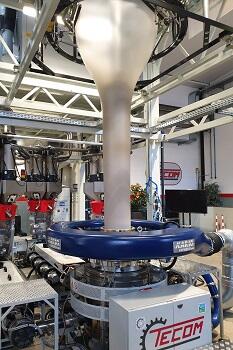 The Italian manufacturer of blown film extrusion lines Tecom will be present to K 2022 with a wide range of products related to recycling and eco-sustainability. The recent merger with Union allowed the company to consolidate its market positioning and confirms its role as one of the best international manufacturers of lines dedicated to processing plastic materials. The desire to pursue a "green" growth has led the company to design new plants for the extrusion and coextrusion of virgin and recycled polyolefins, biopolymers and compostable materials ever more efficient, with high performances and low consumptions.
The new EXK 90/50/50B will be showcased at K 2022. It is a three-layers extrusion line dedicated to recycled materials with some innovations related to production processes and the reduction of energy consumptions. The new configuration involves the lateral displacement of the extruder with the greatest flow, responsible for the production of the central layer. It allows to reduce the overall dimensions of the line, reduce the cleaning time of filters and increasing the production thanks to bigger cartridge screen-changers.
Other innovations from Tecom are the new Coex Pentaflow line with three extruders and the Coex five layers line for processing polyolefins, biopolymers and compostable materials. The Coex Pentaflow line with three extruders has been specifically designed for circular economy and to transform recycled materials. This type of plants provide the following advantages:
- management and production costs significantly lower in comparison with a traditional five-layer line with five extruders;
- final products qualitatively better compared to the products obtainable with a classic three-layer Coex: adding two layers allow to manufacture a film with more mechanical strength and flexibility;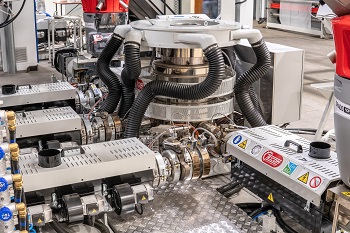 - configuration of the layers established during the phases of working according to customer requirements, chosen materials and final use of the products.
The five-layer Coex line instead has been designed to produce quality polyolefin-based films. The increasing demand for flexible packaging has led to an increased demand for multi-layers films: five-layer Coex line can easily adapt to market requirements thanks to its flexible features which allow customers to easily change production according to their needs.