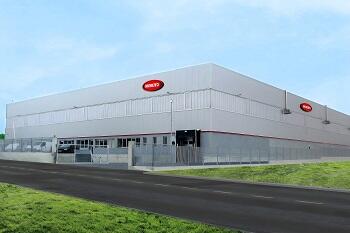 From May 24 to 27 Moretto will be in Kielce, where it will participate at the 2022 edition of the Plastpol fair, a very important event for the company. Moretto has been present in Poland since 2009 serving all processors in Eastern Europe.
The recently expanded branch consists in more than ten thousand square meters plant including offices, production dept, warehouse and showroom. A progressive and constant growth that responds to the company desire to guarantee a qualified presence, a training centre and a reference point ever closer to the customer in all pre and post sales phases. A team of experts always available to offer qualified consulting with a careful analysis of requests and the proposal of timely and effective solutions.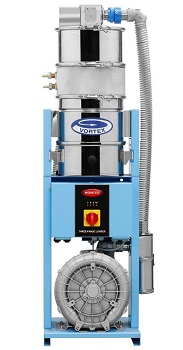 New conveying line: ever more compact and modular
Production process planning is essential to improve productivity. To reach this result is fundamental to organize work in an efficient way and to optimize production spaces implementing ever-compact solutions. Moretto satisfies this request with a restyling of the conveying product line that will be exposed at the show such as the new compact hopper loader range that is 30% smaller than the equivalent products available on the market. These solutions are suitable also for master and micro-feeding.
The new three-phase suction units have been reduced dimensionally and mount the new Vortex filters. They have a modular design and can be equipped with several accessories (Vortex filter, automatic cleaning device, Bypass valve, DUO valve and cooling ring for the transport of hot material) according to the application needs. Specifically designed for the plastic granules convey is the new range of flexible hoses completely produced in-house. These hoses are 5 times more resistant than standard solutions on the market that solve one of the major problems in power supply systems - the wear of the pipes, especially in the transport of materials with mineral fillers or fibreglass.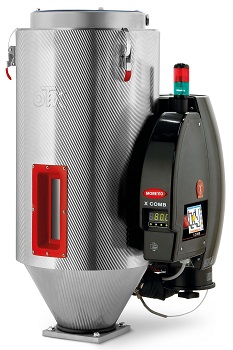 Efficient drying for both small and large throughput
The transformation process of technical polymers requires special care starting from the very first steps of the production cycle. The drying phase is one of these and its correct execution is essential to generate high quality products. Drying is the Moretto core business and according to this it has developed several cutting-edge solutions such as X Comb, the super compact mini dryer suitable for lower throughput of technical polymers. Fully electric (it does not require compressed air), it is specifically designed to efficiently treat very hygroscopic technical polymers, particularly for critical industrial sectors such as medical, optical and electronics.
Displayed at the fair, after the Fakuma preview, the new CRX Mobilux, an advanced drying system available in four configurations. The standard composition includes dryer + hopper to which it is possible to integrate - according to customer needs - the DUO suction unit and the heating group for use up to 200°C. The application of the in-line moisture analyser Moisture Meter, possible in all configurations, helps to create a system with a high technological content. It is a mobile application, an independent and compact system to be placed close to the processing machine integrating the plastic granule treatment and conveying functions.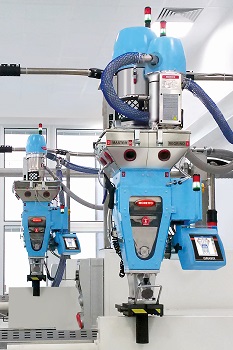 Accuracy and technological content in dosing
In the plastics processing, dosing is an essential phase to obtain a product that respects the design specifications. It is therefore essential for processors to use valid equipment.
Moretto dosing systems represent the widest and most complete range able to face any dosing request. Among the solutions there is DGM Gravix, a batch gravimetric dosing unit that ensures production flexibility and the highest dosing accuracy even in the presence of vibrations thanks to VIS (Vibration Immunity System) which allows it to be installed directly on the processing machine. Thanks to the Modbus RS485, USB and Ethernet connections, it enables traceability of material consumption and recipe certification. DPK, the compact loss-in-weight dosing unit, is specific for micro-dosing. It is characterized by the transparent shockproof hopper which makes the content level immediately visible.
These and other innovative solutions will be exhibited at Plastpol. Products with high technological content able to raise the quality standard, increase production efficiency and energy savings of the systems supplied paying attention to primary issues such as recycling and circular economy.