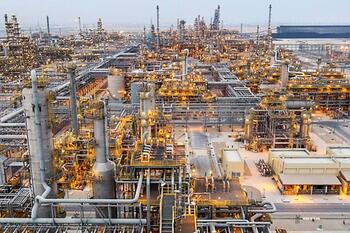 TotalEnergies, Aramco and Sabic have for the first time in the Middle East and North Africa successfully converted oil derived from plastic waste into ISCC+ certified circular polymers. The plastic pyrolysis oil, also called plastic waste derived oil (PDO), was processed at the Satorp refinery jointly owned by Aramco and TotalEnergies, in Jubail, Saudi Arabia. It was then used as a feedstock by Petrokemya, a Sabic affiliate, to produce certified circular polymers.
The project aims to pave the way for the creation of a domestic value chain for the advanced recycling of plastics to circular polymers in Saudi Arabia. The process allows the use of non-sorted plastics, which can be difficult to recycle mechanically, and consequently contributes to solving the challenge of end-of-life plastics.
A first milestone for the project was obtaining ISCC+ certification to assure transparency and traceability of the recycled origin of feedstock and products. Three industrial plants were involved in the process: Satorp refinery, Aramco's Ju'aymah NGL Fractionation Plant and Petrokemya. All successfully obtained the ISCC+ certification, enabling the production of circular materials.