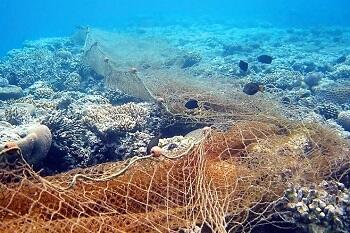 LG Chem announced that it entered into a memorandum of understanding for building a resource circulation system by recycling marine wastes with Netspa. Through this memorandum, LG Chem will be able to stably secure raw materials for its Seokmun National Industrial Park pyrolysis oil plant in Dangjin, Chungnam (South Korea), which is scheduled to begin operations in 2024. Once Netspa sorts and processes plastics from marine wastes, LG Chem will use it to produce recycled plastics.
The two companies hope to not only protect the marine ecosystem but also reduce carbon emissions through this resource circulation partnership. LG Chen and Netspa anticipate that using marine wastes as materials for recycled plastic will help reduce marine wastes itself and carbon emissions by three-fold compared to other fossil fuel-based products.
About 50,000 tons of marine wastes, such as discarded fish nets, are generated every year in Korea. But collecting the wastes has been difficult due to the costs of discarding, and even if they are collected, it has been difficult to treat. Therefore, most of the wastes were left neglected or incinerated.
LG Chem Petrochemicals President Kug Lae, Noh stated, "We will further accelerate eco-friendly technologies and businesses for sustainable growth in the future such as marine waste resource circulation."