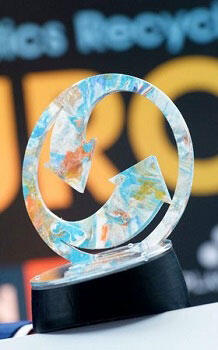 Shortlisted finalists in the Plastics Recycling Awards Europe 2023 were announced in a livestream event. The winners of the seven awards will be announced on 11 May, the second day of the Plastics Recycling Show Europe at the RAI Amsterdam, where all 47 finalists will be showcased.
"Congratulations to all our finalists. The diversity of projects and products shortlisted today demonstrates the impressive progress we've seen in the circular and sustainable use of plastics in the six years since the Plastics Recycling Awards Europe were founded," said Matt Barber, Global Events Director at PRSE organiser Crain Communications. "The judges are going to have a hard task choosing our winners this year."
"These awards reflect the deepening collaboration we see throughout the whole plastics value chain including brand owners, packaging designers, raw material producers and equipment manufacturers," said Ton Emans, President of Plastics Recyclers Europe. "All of the shortlisted products and projects are made in Europe and every product contains a minimum of 50% recycled plastics."
Plastics Recycling Awards Europe 2023 finalists are the following.
Automotive, electrical or electronic product of the year - plastic parts used in automotive and electrical products incorporating recycled material:
700 GreenZone MaxiSpace fridge freezer by Electrolux and Coolrec;

Nescafé Dolce Gusto NEO N1 coffee machine by Néstle, Free The Sea and WIK Group;

PlasticLoop - Audi Q8 e-tron seat belt buckle cover by LyondellBasell, Audi and SynCycle;

Visible Interior Trim Parts on Ford MCV (Ford Transit) and HCV (Ford Trucks) Vehicles by Ford Otomotiv Sanayi;

Italian supercar Shuttle Tray by Next Design Innovation.
Building and construction product of the year - interior and exterior construction products of all types:
CL-Recy Double Venti animal housing divider by Paneltim;

ECO2CASE delivery case by Benvic, Next Pool & CJ Plast;

Recycled nestable pallet by Aion;

Ridgidrain drainage pipe by Polypipe Civils & Green Urbanisation.
Household and leisure product of the year - covering all types of domestic and leisure goods with recycled content:
4-piece potato planter by Jelenia Plast;

Eco Meplen CX M12 for Bokashi Organko Essential airtight bin for organic waste fermentation by Mepol and Plastika Skaza;

Eco Meplen CX M12 for Organko Daily bin for organic waste collection by Mepol and Plastika Skaza;

Gardena Eco Line garden tools by Husqvarna Group;

HÅG Celi stackable chair by Flokk;

Playmobil Wiltopia toy range by Coolrec Plastics.
Plastic packaging product of the year - judged on design innovation with recycled content and design for recycling:
Always Pads Day & Night sanitary pads packaging by Procter & Gamble Service;

Closed Loop Recycled Paint Containers by Berry Global;

Collation Stretch REC60 shrink film by Hipac;

Container for fertilizer made of recycled plastics by PreZero Polymers, Kunststoff Recycling Grünstadt & Compo;

Courier Envelope film postal packaging by Ela Wyrób Folii i Opakowań & Inpost;

Duck Ecoline MTBC cleaning product bottle by SC Johnson;

Eludril Pro 500ml mouthwash bottle by Bormioli Phrama & Pierre Fabre;

Magnum Optimum 1210 CircuLine crate by Schoeller Allibert;

The Corona 20-pocket beer bottle crate made from maritime plastics by Schoeller Allibert & Anheuser-Busch Inbev.
Product technology innovation of the year - improving recyclability of plastic products or incorporating recycled materials in product production:
Gastop-Flex vapour barrier masterbatch by Ampacet;

Recycling of monomaterial shoe by Arkema in partnership with ON Running;

Avient Color Prediction Service by Avient Corporation;

Cesa NOX A4R - Additive for Recycling by Avient Corporation;

Statera waste and scrap take-back programme by Mitsubishi Chemical Group - Advanced Materials Division;

APC colorAdjust photospectrometer system by KraussMaffei Extrusion;

Liquid State Polycondensation - P:React - Bottle-to-Bottle by Next Generation Recyclingmaschinen;

recoStar PET art by Starlinger Recycling Technology. 
Recycling machinery innovation of the year - increasing the efficiency and effectiveness of plastic recycling processes:
AMP Vortex AI-powered automation system for film removal and recovery by AMP Robotics;

Inline White Filter Cleaning - hydrolysis based inline cleaning of large-area polymer filtration systems by BB Engineering;

Two-stage process for more energy-efficient plastics recycling by Engel Austria;

Intarema TVEplus DuaFil Compact double filtration machine for post-consumer recycling by Erema Engineering Recycling Maschinen und Anlagen;

Greyparrot AI waste analytics platform by Greyparrot;

Recycling of electroplated sanitary parts by Hansgrohe SE & ImpulsTec;

Plascompact CS2000 mechanical dryer by Plasmaq;

Wear protection for Weima plastic shredders by Weima Maschinenbau;

AirLift move for the separation of light & heavy fractions by Westeria. 
Plastics recycling ambassador of the year - individuals who have made an outstanding contribution to European plastics recycling:
Amaya Rodríguez Sola, CEO and Cofounder, Gravity Wave;

Manfred Hackl, CEO, Erema Group;

Nico Van de Walle, Product & Circular Economy Manager, Verstraete/MCC;

Edward Kosior, Founder & CEO, Nextek Limited;

Raffi Schieir, Director, Bantam Materials;

Vítor Branco, Project Manager, Tampinhas Project.